[SatNews] RigNet, Inc. (NASDAQ:RNET), a provider of digital technology solutions to the oil and gas industry, announced today that Marty Jimmerson has informed the Company of his intention to step down as Chief Financial Officer ("CFO") by the end of the year. Jimmerson has indicated that he will remain to assist in the search for a new CFO and to assure an orderly transition.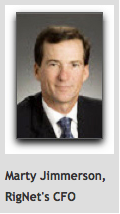 "I have tremendously enjoyed my over eight years as CFO at RigNet, from its private company days through its successful transition to a public company," said Marty Jimmerson, RigNet's senior vice president and CFO. "The skills and experience I have gained are invaluable. With RigNet now successfully transitioned, the timing is now right for me to pursue other opportunities."
"Marty has been a key contributor to RigNet's success over the past several years, having helped guide the Company through an IPO, two acquisitions and the launch of a new ERP system," said Mark Slaughter, RigNet's CEO and president, "Through his efforts, he will leave the Company on excellent financial footing. I will miss working closely with him and wish him every possible success in his next endeavors."
RigNet has hired Heidrick & Struggles to lead the CFO search, which will consider both external and internal candidates.
Note: In 2010 SatNews ran an article. RigNet... First Place For Financial Forthrightness
[SatNews] RigNet, Inc., a global provider of managed communications solutions for the upstream oil and gas industry, announced that Marty Jimmerson, RigNet's chief financial officer, was recognized by the Houston Business Journal as the 2010 Best CFO of the Year in the Best Growth Manager category. Read the rest here.