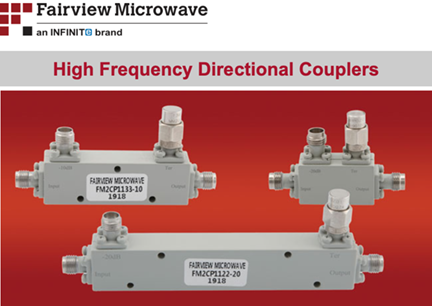 In many cases, microwave and RF testing, as well as initial proof-of-concept applications, require the use of RF couplers when designing new systems or prototypes.

To address this need, Fairview Microwave has launched a new series of high frequency directional couplers that are perfect for use in SATCOM, 5G telecommunications, automotive radar, point-to-point radio as well as aerospace applications.

Features include:
• Directional couplers with a high operating frequency range up to 67 GHz for wide band applications
• Coaxial designs with SMA, 2.92mm, 2.4mm and 1.85mm connectors
• Power handling capability up to 30W(CW)
• Excellent isolation and insertion loss performances with low return loss
• Available with 6dB, 10dB, 15dB, 20dB and 30dB coupling levels

These new high frequency RF couplers are in-stock and available for same-day shipping from the company.