[Satnews] Protonyx Data Services is partnering with Eutelsat Communications (Euronext Paris: ETL) to offer its comBOX Satellite Link Bonding solution over the KA-SAT satellite to offer businesses the opportunity to incrementally add bandwidth to their Wide Area Networks (WAN) by aggregating multiple satellite links together.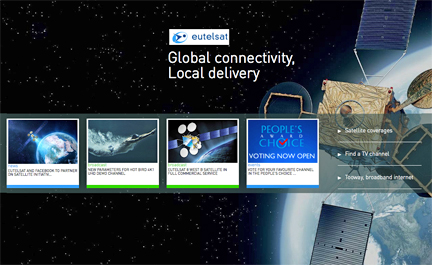 The solution means organisations operating in remote areas across Europe can use high-speed, secure and reliable internet services for business wherever they are located. comBOX Satellite Link Bonding, is ideal for:

Small to medium companies located in remote areas that access the Internet via satellite broadband connections and need constant access to Cloud Services for their daily operations.
Companies with centrally located headquarters and a number of branch offices located outside urban areas that need security and reliability of data communication between their remote offices and the headquarters.
Companies that require Quality of Service (QoS) and Traffic Shaping for guaranteed bandwidth to critical services or applications.

Businesses using the new solution can take existing single Internet connections from Eutelsat Broadband, which deliver download speeds of up to 22 Mbps and upload speeds of up to 6 Mbps over the KA-SAT satellite, and bond them together to provide a stable and secure increased bandwidth service. For example, by aggregating the bandwidth of four Eutelsat's satellite links, the total speed could reach 88 Mbps for download traffic and 24 Mbps for upload traffic.

The Protonyx comBOX satellite link bonding technology uses a special algorithm to effectively aggregate the available bandwidth and create a virtual Internet connection with speeds equal to the sum of the individual connections used. The aggregated bandwidth is available even for a single session (e.g. transfer of a single file), as the data is sent simultaneously using all the available satellite links. The algorithm is self-tuning and adaptive to changes in the bandwidth and quality of the individual satellite links.

The solution has been designed to offer businesses the flexibility, security and certainty they need, with real time Data Compression, Performance Enhancing Proxy (PEP), TCP tuning and Packet Order Correction (POC), as well as various Quality of Service (QoS) and Priority adjustments. These features help compress the data transmitted over the satellite to keep costs down, ensure data is transmitted at optimum speeds, bandwidth is managed automatically for data intensive applications and service is maintained even during network outages.
Executive Comments

Antonios Chaidemenos, Managing Director at Protonyx Data Services, said, "The combination of our comBOX satellite bonding solution and Eutelsat Broadband's KA-SAT satellite coverage across Europe enables businesses to take advantage of high-speed, stable and secure broadband services from any location, however rural or isolated."

Olivier Anstett, General Manager at Eutelsat Broadband, said, "This partnership provides organizations using our satellite broadband services with new levels of speed, capability and flexibility unseen before. The comBOX Satellite Bonding solution will provide businesses in hard to reach communication areas with the tools to compete on a level playing field."