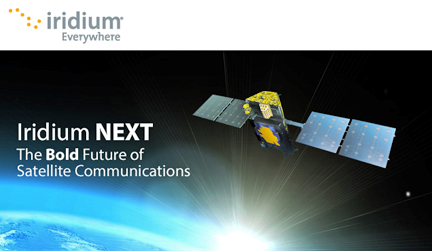 [SatNews] Iridium Communications Inc. (Nasdaq: IRDM) has announced the winners of its Iridium NEXT Mission Team Scholarship program for the 2014-2015 academic year.
Now in its third year, the endowment will award a total of $50,000 to five aspiring aerospace engineers to complete their college education.
The winners of the 2014 Iridium NEXT Mission Team Scholarship are:
Craig Babiarz, University of Illinois at Champaign-Urbana, Champaign, Illinois
Gerald Andrews, University of Maryland, College Park, Maryland
Matthew Arnott, The Ohio State University, Columbus, Ohio
Nanmwa Dala, Embry-Riddle Aeronautical University, Daytona Beach, Florida
Aaron Becks, The Ohio State University, Columbus, Ohio
"We are very excited to see the caliber of students that applied for this year's Iridium NEXT Mission Team scholarship," said Scott Smith, Chief Operating Officer, Iridium. "Over the past three years, we've given scholarships to 11 very deserving individuals and I look forward to seeing the contributions that they make to the industry in return. We believe that companies must invest in the next generation of great leaders, and I hope that one of the students will work alongside us on the Iridium NEXT constellation once their studies are complete."
The Iridium NEXT Mission Team, an innovative group of partners that are developing the company's next-generation satellite constellation, represents the contributions of the best and brightest minds in today's aerospace industry. The scholarship fund was created to support the education and development of aerospace students. Along with contributions from Iridium, the 2014-2015 program is being funded by Iridium NEXT Mission Team members including SpaceX, Thales Alenia Space, Lockheed Martin, Boeing, SEAKR and MDA.
Iridium NEXT is the largest commercial space program underway today. With the support of its Mission Team partners, Iridium anticipates the first scheduled satellite launch of the new constellation in 2015.

To learn more about Iridium NEXT and the Iridium NEXT Mission Team Scholarship, please visit http://www.iridium.com/About/IridiumNEXT.aspx