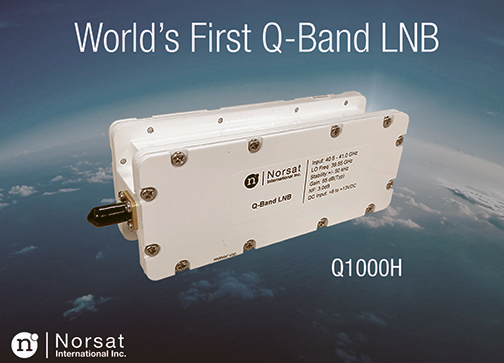 Norsat International Inc. ("Norsat" or "the Company") has launched the world's first LNB (Low-noise block downconverter) operating in the Q-band.
Norsat's Q-band PLL LNB, the Q1000H will facilitate experimental and pioneering work with Q-band satellites initiatives. With the arrival of 5G and preparation for 6G, the satellite industry is expected to move from Ku- and Ka-band toward Q-band over the next decade.
Norsat aims to be the first to provide next-gen products in the EHF frequency range, supporting satellite communications, remote sensing, terrestrial microwave communications and radio astronomy studies. Operating in the frequency band of 41.0 GHz, the LNB can be used in future Q-band satellite terminals, fixed antennas, telescopes and more.
Norsat will be launching and showcasing this innovative product at the SATELLITE show in Washington, DC this week on stand #1235. These products are available for order with first shipments scheduled for end of Q3 2019.
Dr. Amiee Chan, President and CEO of Norsat, said the company has always been strides ahead of the industry when it comes to launching microwave components and exploring new frequency bands. In addition to offering the world's largest portfolio of LNBs, the Q1000H LNB will be Norsat's first solution for the extremely high frequency range.

For more information, please access this direct link...