[SatNews] LiveWire Digital will be showcasing enhanced versions of M-Link Live X for live video transmission, and Newscaster, the professional solution for the delivery of HD and SD store and forward video at IBC2014 in Amsterdam.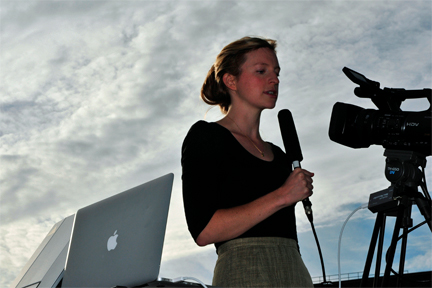 Also featured at the event will be a new, smaller footprint M-Link Exchange video receiver that is designed to help broadcasters better use space in their server rooms. Livewire Digital will be sharing the stand with its global reseller, Network Innovations, a satellite communications integrator, who is focused on the provision and support of solutions that enable customers to communicate anytime, anywhere on the planet.

M-Link Live X and Newscaster
Ideal for reporters on the move, M-Link Live X and Newscaster now come complete with fully integrated BGAN HDR Control enabling users to control their Cobham Explorer 710 satellite streaming terminal directly from their laptops and to choose from a range of guaranteed Streaming IP rates to meet all their data, voice and video needs. M-Link Live X automatically brings up and tears down the connection, enabling users faced with high call charges to make the most effective use of budgets. Live video is encoded at the maximum bit rate possible, making the best use of the variable bandwidth provided by BGAN HDR and maximizing the quality of the video delivered regardless of the link conditions. Dynamic feedback from the network provides real time information on the available bandwidth and is used to manage the Adaptive Bit Rate encoder. M-Link Live-X will work equally well with KA Band satellite technology, 4G, 3G, DSL, other broadband connections. Full frame profiles are also available for use with the Inmarsat HDR connections; offering enhanced video quality and making the best use of the service. Reporters using M-Link Newscaster, the professional solution for the delivery of HD and SD store and forward video, can make use of the new background encoding feature. Files saved into the watch folder are automatically encoded, helping reporters pressed for time to work more efficiently.

M-Link Exchange
A quarter of the size of its predecessor, the M-Link Exchange Server is designed to operate on the Windows Server 2012 platform and occupies just one unit of rack space, helping broadcasters better use space within their server rooms. With considerably more processing power, the new 1U Exchange server will provide the backbone of future M-Link receiver systems utilizing HEVC encoding and handling multiple live calls. The new M-Link Exchange server allows users to simultaneously ingest live video streams and to play out files on the same piece of equipment.
Livewire Digital will be located at stand 4.C83 at IBC2014.
For further information, please visit the Livewire infosite at http://www.livewire.co.uk/