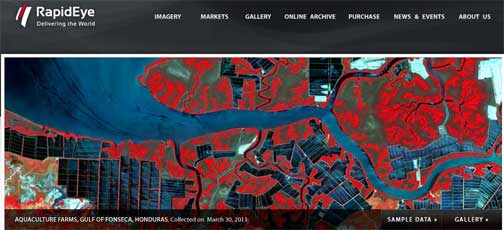 [SatNews] This time their task is delivery of imagery of nearly five million square kilometers of China.
RapidEye, a provider in wide area, repetitive coverage of Earth through its constellation of satellites announced today that it has signed a contract with China's Ministry of Land and Resources (MLR) to cover almost five million square kilometers of China over the next few months.
This is the third consecutive year that RapidEye was a successful bidder to cover China for the MLR.
"With its five satellites and the strongest satellite imagery collection capability to our markets, the RapidEye system performs extremely well when serving clients such as MLR,
" commented Mr.
Bing Sun
,
CEO of Beijing Eastdawn Information Technology Co. Ltd.(EDIT).
"We strongly believe our partnership with RapidEye brings the best satellite technology available as well as service know-how to the Chinese market."
"There was a tremendous amount of preparation by our Chinese distributor, EDIT to position us. The competition is getting more severe, but EDIT represented us well
," commented
John Ahlrichs
,
Vice President of International Sales for RapidEye
. "Of course, the sales process was made easier because we have proven to the MLR twice before that we are reliable and can deliver high quality data over wide areas on time or ahead of schedule."
The agreement between RapidEye and the MLR would require a delivery of nearly five million square kilometers of China (more than 50 percent of the country) with less than 10 percent cloud cover. Some key areas that will prove a challenge are the traditionally cloudy areas of Tibet and the Southeastern provinces.
"With an order such as this, there's really no better system than ours to deal with historically cloudy areas," commented
Massimiliano Vitale
,
RapidEye's Chief Operating Officer
. "
We will never get the areas cloud free, but our system will have a better chance because of our quick return capabilities."
In anticipation of the order,
RapidEye began imaging the area of interest (AOI) in early August.
Currently the imaging campaign is scheduled for completion in later this month, earlier than in previous years.