[SatNews] Harmonic (NASDAQ: HLIT) will showcase its comprehensive line of market-leading solutions that optimize the production and delivery of high-value video services in the broadcast, payTV, and new media environments at stand 1.B20 during IBC2014 in Amsterdam, September 12-16.

Harmonic , the worldwide leader in video delivery infrastructure, has announced the release of its Polaris™ playout management suite of tools, tightly integrated with Harmonic's market-leading Spectrum™ media server family and designed to address the full range of playout applications for broadcasters. The Polaris suite represents Harmonic's first offering in the emerging Media Orchestration category, which is important as workflows consolidate and simplify, and video delivery becomes virtualized.
Harmonic's new media orchestration offerings include the following:
The Polaris Advance integrated channel playout automation system, offered in partnership with Pebble Beach Systems, raises the bar for integrated channel playout by enabling powerful control and management of the complete multichannel playout workflow from a single interface. Polaris Advance software improves on current integrated channel playout workflows by maximizing flexibility for adaptation to individual customer requirements for efficient play to air, with the simplicity of being tightly integrated with the Spectrum media server system. Leveraging IP control, Polaris Advance facilitates management of the advanced functional-integration features of the Spectrum ChannelPort™ integrated channel playout system, and will migrate to support playout functionality from the Harmonic VOS™ virtualized video delivery platform.
The Polaris Live manual device control application elevates the capabilities of channel-in-a-box solutions by bringing the power and efficiency of fingertip manual control to all functions of the Spectrum ChannelPort system. The Polaris Live solution delivers fully customizable touchscreen control of video, graphics, DVE, and routing into master control and studio environments. The combined system maximizes flexibility and simplicity of operations, with an intuitive user-defined GUI.
In related news, the company has made a strategic investment in Vislink PLC (UK), the parent company of Pebble Beach Systems, becoming one of its largest shareholders.
Additionally, new multiscreen packaging and origination capabilities for its VOS™ software-based media processing platform have debuted.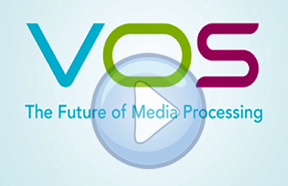 Unifying the entire broadcast and multiscreen media processing chain, VOS now includes packaging-on-the-fly and low-latency origin server functionalities originally developed for Harmonic's award-winning ProMedia® family of integrated multiscreen applications, as well as a wide range of broadcast-quality captioning and subtitling, ad insertion, and blackout support for live, VOD, and time-shift services. The VOS platform is the industry's only solution to combine the essential elements of broadcast and multiscreen media processing — including ingest, compression, graphics and branding, packaging, and delivery — on common, off-the-shelf hardware. The VOS architecture is ideal for deployment in video headends or it can be fully virtualized in IT data center environments.
Sky Italia, the leading Italian payTV provider, is one of the first customers to deploy the VOS platform for its broadcast and multiscreen services. Utilizing the VOS platform, video content and service providers such as Sky Italia can successfully migrate to a virtualized video infrastructure to simplify workflows, maximize flexibility, increase operational efficiency, and lower costs while providing its customers with high-quality video services.
The new multiscreen capabilities are available in Harmonic's VOS-powered ProMedia X Origin streaming media server. ProMedia X Origin supports a broad range of applications beyond live streaming and video on demand. When combined with Harmonic's MediaGrid shared storage system, ProMedia X Origin provides a complete time-shift TV solution, including catch-up TV, start-over TV, and nDVR.
Harmonic will debut the ProMedia X Origin streaming media server at IBC2014, stand 1.B20, Sept. 12-16 in Amsterdam.
Further information about Harmonic and the company's products is available at http://www.harmonicinc.com.