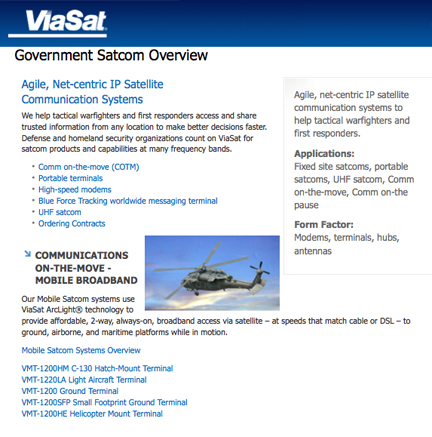 [SatNews OCTOBER 31, 2012] ViaSat Inc. (Nasdaq:VSAT) has received orders in excess of $11 million for...
...Joint IP Modem Network Control Centers (NCCs), remote modems, and Joint IP Modem enhancements. These production contracts enable the Department of Defense to complete its roll out of interoperable network services to warfighters from teleports and Strategic Tactical Entry Points (STEPs). In addition, the orders include further development of the Joint IP Modem to enable efficient regional connectivity within a larger global network footprint. These awards follow successfully deliveries against previous contract obligations. The objective of the government Joint IP Modem program is to create warfighter/service network interoperability, promote satellite bandwidth efficiency, and ultimately enable disparate network convergence; important attributes for DoD networking technologies.
The Joint IP Modem hardware represents the latest open-standards based satellite networking technology. The modem offers as much as 330Mbps of total forward link, TRANSEC covered, IPv6 capacity to each remote modem while enabling a return link up to 8Msps. Each remote modem is equipped with the packet processing power required to operate at line speed, enabling maximum warfighter flexibility. Adaptive Coding and Modulation (ACM), Variable Coding and Modulation (VCM) and Dynamic Link Adaptation (DLA), combined with the ViaSat layered Quality of Service (QoS) architecture, offer unmatched bandwidth efficiency in changing environments. Able to accommodate additional enhancements through software upgrades, the Joint IP Modem is designed for extended product life.