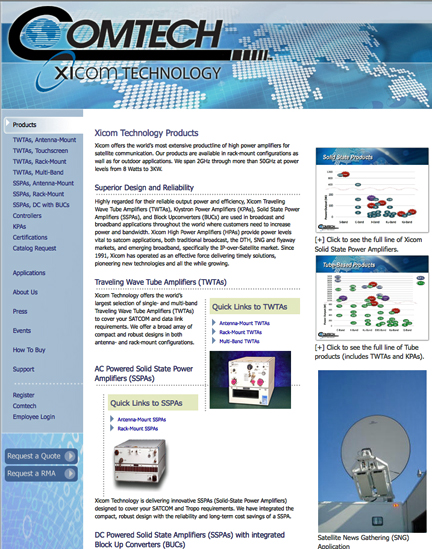 [SatNews] Comtech Xicom Technology, Inc. has introduced a compact and highly efficient GaN-based amplifier for...
...X-band MILSATCOM service. Model XTSLIN-100X-B1 features 100W of WGS linear power in a compact, rugged thirty-two pound package. Drawing only 750W of prime power while at linear RF output, this amplifier is ideal for transportable applications where robust, high efficiency, lightweight and high-temperature operation is required. In addition, this unit has demonstrated the ability to support critical multi-carrier X-Band operation with extremely low leakage levels in the receive band, even for the case with the SSPA in view of the antenna and feed. Model XTSLIN-100X-B1, measuring just 6.8-inches x 10.5-inches x 17-inches, includes an integrated BUC, output isolator and harmonic filter. This amplifier has been developed and is manufactured in the USA, facilitating military procurement and logistics. It is the perfect solution for military users who need high power, high-efficiency, compact solid-state amplification for single- or multiple-carrier X-Band tactical SATCOM systems.
"We are extremely proud to introduce this industry-leading X-Band product in support of our military customers who are looking for greater mobility, efficiency and linear power. Our new HPA delivers 100 Watts of WGS linear power in a smaller and lighter package. No other product in the marketplace offers this level of linear power in such a lightweight package," said John Branscum, President of Comtech Xicom Technology, Inc. "As customers demand higher performance, they continuously turn to Comtech Xicom Technology where we are dedicated to rapidly providing solutions to their most challenging problems."
System integrators can obtain additional specifications and information from Comtech Xicom Technology representatives by visiting Booth 7009 at SATELLITE 2013, March 19-21, in Washington, DC. Data sheets for the new XTSLIN-100X-B1 are available on www.xicomtech.com.