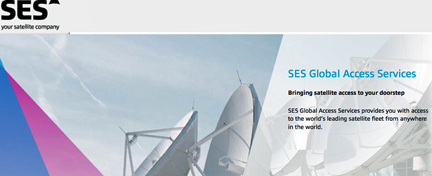 [SatNews] SES (NYSE Euronext Paris and Luxembourg Stock Exchange: SESG) has successfully concluded an agreement with SIS LIVE to provide Ka-band capacity on the ASTRA 1L satellite, which is located at 19.2 degrees East.
This long-term deal will enable SIS LIVE to deliver satellite newsgathering (SNG) services to the UK's premier news and content providers - ITN and ITV. SIS LIVE, which owns and operates the largest uplink facilities in Europe, has become the first major SNG organization operating DVB and IP services on Ka-band capacity.

David Meynell, Managing Director of SIS LIVE, said, "Having been heavily involved with the first major automated service for ITV and ITN ten years ago, we have a deep understanding of the day-to-day needs of fast-moving newsgathering organisations. ITV and ITN demand high quality, efficient services delivered by the latest innovative cost-efficient technology, and through the use of this Ka-band capacity we will be able to continue to deliver the excellence they have come to expect from us."
Nick Stubbs, Vice President and SES' General Manager, Western Europe, said, "SIS Live is a long standing and highly valued client. We are delighted to continue to develop our relationship and work with them to provide their clients with seamless delivery through our leading edge technologies."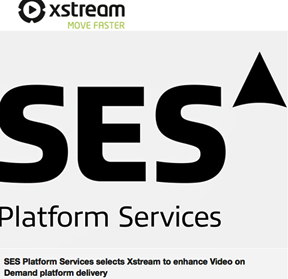 Additionally, Xstream, a premium provider of OTT and TV Everywhere services, has announced that SES Platform Services, a leading service provider of play-out and content management services for broadcasters and media companies, has selected Xstream's award winning management system, Xstream MediaMaker™, to power their existing Video on Demand delivery platform.
The OTT video solution created by Xstream will enable SES Platform Services to offer their customers the market's most flexible multi-tenant platform for the delivery of videos to Video on Demand platforms and to a wide range of devices, supporting all business models, worldwide. Additionally, the solution features several custom-made RESTful API's for a number of innovative and powerful integrations and features.
"Xstream's innovative and proven platform, their impressive track record, flexibility and ability to act as a solution partner, made them a natural partner and first choice for us" said Dr Frank Hoffmann, Chief Product Officer at SES Platform Services. "Importantly, thanks to the flexibility to customize and interface with our existing ingest-, transcoding- and metadata-engine, we are able to create precisely the kind of solution we need to offer a state of the art video management and delivery solution to our customers"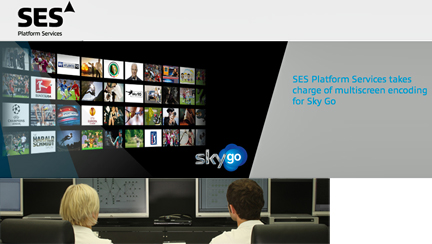 Using Xstream MediaMaker™, SES Platform Services will dramatically simplify their customers' workflows, enabling them to take full control of the entire ingest, and delivery process.
Frank Thorup, CEO at Xstrea,, said" Xstream MediaMaker™ is designed to work in parallel with legacy TV systems, leveraging existing infrastructure investments while, at the same time, be flexible to integrate with any other third party solution. The innovative multi-tenant OTT solution we're developing for SES Platform Services is a clear proof of the systems flexibility to adapt to the customers needs."
The in-built Ingest module within Xstream MediaMaker™, greatly simplifies the ingest process of media assets and offers a completely transparent process to fit into any media rollout. Additionally, the Ingest module collects content from multiple sources with ease and with a minimum of human resources needed, enabling SES Platform Services to reduce time spent on setting up ingest workflows, decrease time to market and scale their offerings faster, better and wider than ever before.
The SES infosite is located at: http://www.ses.com/
Further details regarding SIS LIVE are available at http://www.sislive.tv/
For more information regarding Xtream,select this direct infosite link.
Further details regarding SES Platform services is available at this direct infosite link.