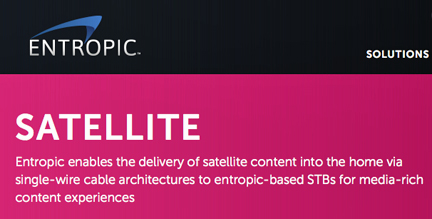 [SatNews] Entropic (Nasdaq:ENTR) and Prime Electronics and Satellitics Inc. have debuted the new Prime Low Noise Block (LNB) converter, based on Entropic's EN5520 digital Channel Stacking Switch (dCSS).
The new LNB will be on display this week at the ABTA 2014 Expo & Conference in Sao Paulo, Brazil, in the Entropic booth (D4) and in the Prime booth (M2).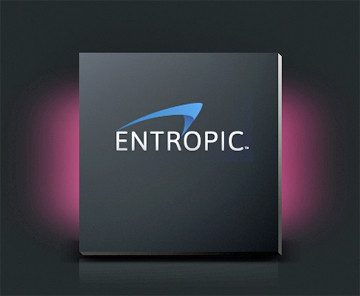 Building on its established presence in the global Direct Broadcast Satellite (DBS) market, where Prime and Entropic have already deployed analog-based CSS solutions in Brazil and India among other markets, Prime will now offer operators a more advanced single-cable LNB solution based on Entropic's 2G dCSS solution—the EN5520. Entropic's EN5520 is a highly-integrated dCSS solution, with the world's lowest power, most cost-optimized and smallest form factor when compared to competitive outdoor unit (ODU) products. By using Entropic's EN5520 dCSS chipset, the Prime LNB provides 32 user bands to support more tuner/demodulators as DBS operators migrate to gateway/client architectures and deliver more High Definition (HD) entertainment into and throughout the home.

The EN5520 delivers best-in-class Modulated Error Ratio (MER) performance under all scenarios. The single-chip solution also leverages proprietary mixed-signal calibration algorithms, crosstalk and spur mitigation techniques to ensure reliable performance over a broad range of operating conditions, providing immunity to process, voltage and temperature variance. In addition to being recognized as the industry' lowest power dCSS solution, the EN5520 includes features like multiple outputs and support for legacy, non-CSS set-top boxes. With its fully configurable User Band architecture, the EN5520 allows maximum flexibility for coexistence with Home Networking solutions like MoCA(R) (Multimedia over Coax Alliance), custom frequency plans, and mitigation around interferers.
For further Entropic information regarding the EN5520, please visit http://www.entropic.com/solutions/satellite/outdoor-unit/en5500
There's additional information regarding Prime Electronics and Satellitics at http://www.pesi.com.tw/