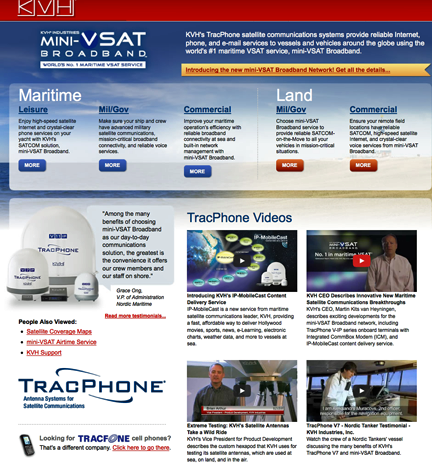 [SatNews] KVH Industries, Inc., (Nasdaq: KVHI) recently shipped its 4,000th TracPhone terminal for the mini-VSAT Broadband network, adding more than 1,000 units in the past year, and extending the company's market share lead in maritime VSAT service.
KVH's mini-VSAT Broadband service has steadily grown in both geographic coverage and network capacity to become the world's largest Ku-band maritime VSAT network. In 2013, the network delivered 370 terabytes of data and 23 million voice minutes to an extensive array of vessels, such as tankers and containerships traveling the world's major shipping routes, fleets in remote fishing grounds, offshore supply vessels in major oil and gas regions, Coast Guard cutters patrolling the U.S. coastline, and luxury yachts on coastal and offshore voyages.
The mini-VSAT Broadband network's growth has been spurred in part by the increasing demand for broadband on commercial vessels, where more and more operational procedures require an Internet connection—whether it is to comply with maritime regulations, maintain communications with fleet headquarters, remotely monitor vessel systems, or access weather and navigational information. Crew members on commercial vessels and individuals on private yachts also rely on Internet access and Voice over Internet Protocol (VoIP) services to surf the web and stay in touch with friends and family on land. KVH more than doubled the capacity of the mini-VSAT Broadband network last year by deploying Variable Coding, Spreading, and Modulation (VCSM) technology provided by ViaSat, Inc., (Nasdaq: VSAT), which enables the network to handle transmissions more efficiently and increases the amount of data that can be carried over the network. The mini-VSAT Broadband network uses a combination of 19 Ku-band transponders and 3 C-band beams to provide total global coverage.
KVH's innovative approach to the antenna hardware designed for the mini-VSAT Broadband network is another factor in the service's growth, as customers have responded favorably to the small, easy-to-install TracPhone onboard terminals that are as much as 85 percent smaller than traditional VSAT systems. This compact design is made possible by the mini-VSAT Broadband service's use of spread spectrum technology, an advanced solution designed specifically for mobile applications and one that enables small onboard terminals to receive fast, affordable VSAT quality data connections. This ease of installation made it possible for BW, a worldwide leader in maritime energy transportation, to install KVH's global C/Ku-band TracPhone V11-IP antenna system onboard 15 of its LNG and LPG carriers within a three-month period.
The advanced TracPhone V-IP antenna systems, which are designed and optimized by KVH for mini-VSAT Broadband service, include the TracPhone V11-IP, a 1.1 meter diameter, dual-mode C/Ku-band antenna for global VSAT connectivity; the TracPhone V7-IP, a 60 cm diameter enterprise-grade antenna for Ku-band service worldwide; and the TracPhone V3-IP, a 37 cm diameter Ku-band antenna that is the world's most compact maritime VSAT antenna. All three TracPhone V-IP systems include the Integrated CommBox™ Modem (ICM), a streamlined belowdecks unit that replaces the need for a rack full of components and integrates all antenna control, onboard network management, and modem functions in one small box.
The recent enhancements to the mini-VSAT Broadband network together with the onboard network management capabilities of the TracPhone V-IP systems play a key role in KVH's recently announced IP-MobileCast content delivery service. This service, which is expected to be available later this year, is designed to deliver news, entertainment, sports, and training content directly to subscribing vessels over the top of the mini-VSAT Broadband connection using a separate data stream and idle network bandwidth such that the content delivery will not affect the customer's data plan or onboard data speed. IP-MobileCast will also deliver operational data such as electronic chart updates and weather information.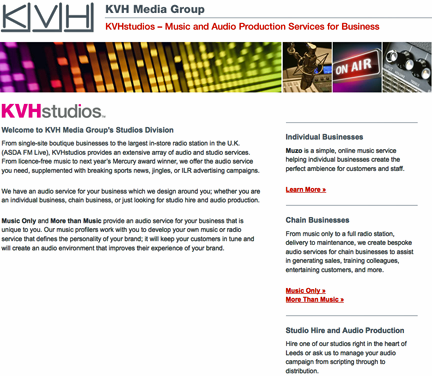 The IP-MobileCast content will be provided by KVH Media Group, which was formed after KVH's May 2013 acquisition of Headland Media. KVH Media Group's brands include: NEWSlink, which provides digital newspapers for merchant vessels and cruise ships; MOVIElink and TVlink, which provide new-release Hollywood movies and television programs; SPORTSlink, which provides sports highlights and video clips from around the world; MUSIClink, which provides a variety of music channels onboard; and TRAININGlink, which provides an extensive array of maritime safety films.
For more information regarding KVH's mini-VSAT Broadband, access: http://progressive.kvh.com/one/
The KVH Media Group infosite is located at: http://www.kvhmediagroup.com/music/