[SatNews] ETL Systems will unveil the first in an exciting new range of RF over fibre products called StingRay to the NAB SHOW audience on April 5.

A growing number of satellite teleports require reliable short distance fibre links, and ETL is developing a new fibre range to offer the highest level of redundancy whilst maintaining the best quality of signals for seamless broadcasts.

The first in the range, which will be shown off at ETL's stand SU5625, is a high density 1U rack mountable chassis housing up to 16 hot-swap transmit and receive RF over fibre modules and is designed to be used for short distance links between satellite dishes and the teleport. StingRay is the first product of its kind to introduce hot-swap power supply units (PSU) in a compact 1U chassis and also features local as well as remote control. Hot-swap fibre modules provide the option of part population, which can help teleport engineers to design fibre links within budget.

Also on display at NAB SHOW 2014 will be ETL's 128x128 high density Vulcan matrix which is designed for larger satellite teleports and is ideal for distribution of high volumes of L-band signals in broadcast or government locations. It is housed in a 16U 19" rack enclosure and has extensive on-board monitoring and reporting of RF card amplifier status, CPU and PSU status and HMI communications – all providing peace of mind for 24/7 operation.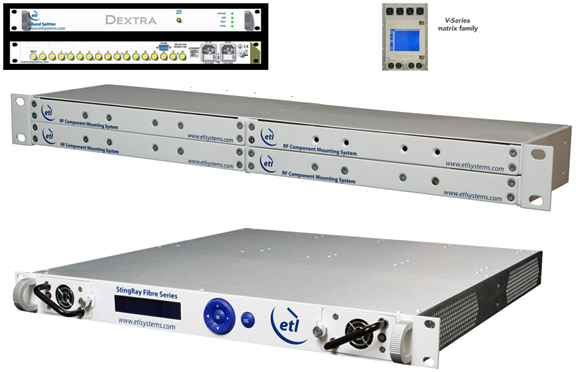 Demonstrations at NAB SHOW 2014

New: ETL Systems' Fibre Solution—Building on existing RF expertise, the new range will have superior RF specs and provide a unique design for high isolation applications.
"This is the most compact unit of its kind on the market, capable of fitting the greatest number of hot-swap transmit and receive fibre modules in the smallest space," said Dr. Esen Bayar, Technical Director of ETL Systems. "We have focused on excellent module to module isolation and this StingRay fibre chassis helps satellite teleports with transition distances up to 5km."

New: ETL Systems' Dextra Splitters and Combiners—A new range of web-enabled professional splitters and combiners to cover the L-band frequency range will be available to view at NAB SHOW for the first time. The new Dextra series includes 4-way and 8-way splitters and combiners in both single and dual configurations and 16-way splitters and combiners, available as single units. The range offers consistently excellent RF performance, including high linearity and low noise figure, and outperforms some of the more expensive models available.

ETL Systems' "V series" matrix family—ETL's "V series" matrix family includes the 128x128 Vulcan Matrix (Model VCN-10) which is an extremely compact matrix used for many high resilience high performance applications. Other matrices in the V family include the 64 x 64 Vortex Matrix, the 32 x 32 Enigma matrix, the 16 x 32 Valiant Matrix and the 16x16 Victor Matrix. The Vulcan's compact configuration offers a cost effective solution for larger RF routing systems. It is housed in a 16U 19" rack enclosure and has extensive on-board monitoring and reporting of RF card amplifier status, CPU and PSU status and HMI communications.

ETL Systems' Components Mounting System—The new components mounting system offers an easy-to-use, cost-effective, and compact system for ETL's "Scorpion" range of passive L-band splitter / combiner components. This 1U 19inch chassis is designed to accommodate ETL's 2, 4, and 8-way passive splitter/combiner modules. It is designed to utilize standard 19" mounting systems to allow compact, neat mounting of RF components.