[SatNews] In its new global awareness campaign, How Satellites Make a Better World, the Society of Satellite Professionals International (SSPI) has celebrated two projects completed by Globecomm as models of satellite's contribution to the economy, business, security and human welfare.

The international nonprofit group, working with five other trade associations, is telling the little-known story of the transformative role of satellite technology on disaster relief, disease control, economic development, the spread of democracy and global business. According to SSPI, the global satellite network is one of the stellar achievements of the 20th Century. It has transformed telecommunications and introduced technologies such as GPS. In many ways it underlies and enables the global economy, and is a bridge to even greater progress in the 21st Century.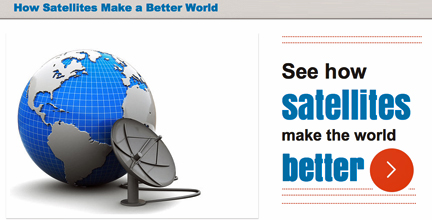 How Satellites Make a Better World (http://www.bettersatelliteworld.com) tells the story of Globecomm's work in troubled Afghanistan to create a communications network that has in many important ways united the country. Through a C-band satellite network, Afghanistan has been able to connect ministries in Kabul with provincial capitals and legislative districts and has given isolated mobile phone networks their very first national and international connections. What originally was planned as a private network, built via a request for proposals by the World Bank, has rapidly evolved into one of the region's best public networks. While the outcome of Afghanistan's political future is not assured, the most recent national elections and the smooth management of the national legislative body are supported by a modern, digital network.
A 2005 study concluded that boosting mobile penetration by 10 phones per one hundred people increases GDP per capita growth by 0.6 percent—and double that rate in developing nations. To offset the challenge of providing base stations in remote forests, mountainous regions and deserts, satellite is the only answer. The second story told in the campaign relates how Globecomm designed and installed several systems for the Digicel Group, the largest mobile carrier in the Caribbean, with services in Central America and the Pacific Islands.
For more information, please visit the Globecomm infosite at http://www.globecomm.com