[Satnews] Network Innovations and Intellian have announced the first major European Government XpressLink conversion and Global Xpress (GX) Maritime service activation.

Network Innovations is a leading Inmarsat VAR with extensive experience in field testing and transmitting on the GX network, and has spent months gaining insight into the organization's communication requirements, where speed of service combined with global coverage presented a unique challenge existing satellite services could not fulfill. Its earlier leadership conducting successful in-field testing of the GX service on land and at sea for Government, Maritime and Enterprise clients proved to be pivotal as the teams created a customized solution.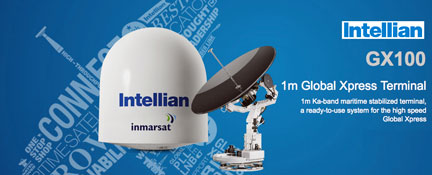 Using an existing Intellian GX100 1m Ku-band and converting it to a GX terminal by using the Intellian upgrade kit, Network Innovations and Inmarsat were able to provide the organization with transmission speeds that far exceeded what was achieved on the previous service.
"Understanding the need for a faster and broader service, Network Innovations' strong partnership with the Inmarsat Global Government team and learned expertise from previous GX beta testing deployments were crucial in developing a customized solution delivering uninterrupted global coverage exceeding the customer's expectations," said Roy Sielaff, Director European Government Sales. "This first GX conversion and activation for a major European customer marks another milestone for Network Innovations and Inmarsat as part of the Inmarsat Global Xpress launch."

Andy Start, President, Inmarsat Global Government, said, "This first Government conversion from XpressLink by Network Innovations highlights the importance of Inmarsat working together with strong partners to establish market rapport and technical expertise in the government market. Network Innovations' ongoing commitment to meeting the specific requirements of their government clients has been justly rewarded by this conversion, which we believe will be the first of many such conversions as governments move to capitalize on the power of Global Xpress".