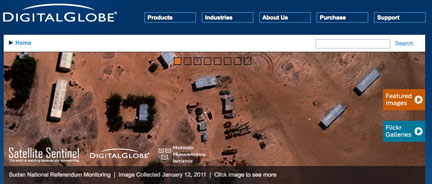 [SatNews] DigitalGlobe (NYSE: DGI) has collaborated with the Satellite Sentinel Project to deliver the first images and analysis of the evolving situation in Sudan following the country's historic vote on independence.
The images and analysis, available at
www.digitalglobe.com
and at
www.satsentinel.org
, are helping the Project and its collaborators to deepen understanding of and monitor the situation on the ground in Sudan. The high quality and resolution of the images clearly show Sudanese Armed Forces (SAF) troops in areas of South Kordofan around the oil-producing Abyei region and other strategic areas along the North-South border, but analysis indicates that the troops do not appear prepared for imminent forward movement.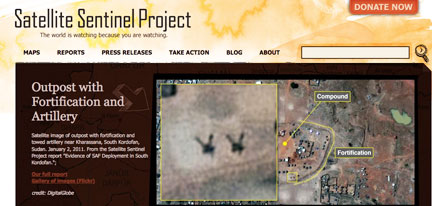 The images aim to shine a light on the area and deter the resumption of war between North and South Sudan. "We are focusing on the areas along the border where the most likely conflicts may occur," said J
ohn Prendergast
, co-founder of the
Enough Project
, an anti-genocide group and collaborator on the
Satellite Sentine
l project. "The idea is to monitor these hotspots and try to stop human rights crimes before they happen." DigitalGlobe Vice President
Stephen Wood
said the company's constellation has imaged nearly 750,000 square kilometers of Sudan in the last 30 days. "With access to imagery and information from the most capable constellation of high resolution commercial satellites, the Satellite Sentinel project can accurately monitor actions on the ground in Sudan during this very critical period. Our collaboration honors a long tradition of providing a clear lens through which we can monitor our world for its long term betterment, and survival."
The Satellite Sentinel Project marks the first sustained, public effort to systematically monitor and report on potential hotspots and threats to security along a border.