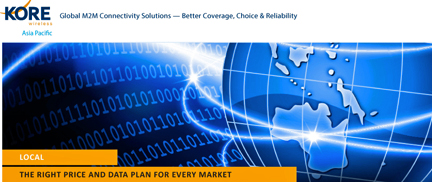 [SatNews] For the second consecutive year, KORE Wireless has been short-listed at this year's CeBIT Australia Business Awards.
Following their nomination for CeBIT Australia's Top Business Solution award last year, KORE Wireless will this year compete against two other outstanding technology companies, Icom Australia and Q3 Technologies, to take home the CeBIT.AU Business Award for Service Distinction.
Vice President and General Manager at KORE Wireless Asia Pacific, Shane Murphy, said the nomination was an added bonus to exhibiting at CeBIT Australia. "KORE Wireless is, once again, proud to be part of CeBIT and everything it has to offer to the technology industrt," Mr. Murphy said. "CeBIT is such a strong global brand in the technology space and being recognised as a finalist for the Service Distinction Award is a great achievement for KORE. One of the main reasons KORE has continued not only to survive but to consistently grow since our foundation in 2003 is our dedication to providing the best possible service to our customers."
The award winners will be announced on Tuesday May 6th at the CeBIT Gala Dinner and Awards Night.
Throughout the three day CeBIT Exhibition, KORE Wireless will be showcasing their M2M service offerings and a selection of their partner and customers products.
For additional information, please visit the KORE Wireless infosite at http://www.korewireless.com.au/