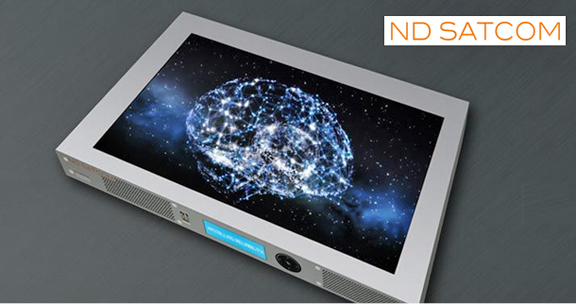 ND SatCom's SKYWAN 5G satellite router's Virtual Routing and Forwarding (VFR) function has now been advanced with a new upgrade—Virtual Channel Group (VCGr).
Offering innovative satellite bandwidth management capabilities, VCGr delivers the toolset for service providers and network operators to use valuable satellite bandwidth with greater efficiency, all the while maintaining service guarantees for users and application groups.
Bandwidth management is a complex and evolving issue for most network operators around the globe. Traffic growth coming from new services, more users or applications with higher bandwidth and/or lowest jitter requirements (e.g., HD/UHD video or 3G/LTE mobile traffic) are stretching network capabilities. All data packets sent on the multi-service network use the same resource pool and, when congestion occurs, any packet can be dropped or delayed.
SKYWAN 5G satellite routers provide easy methods to manage network resources and link characteristics to give precedence to selected network traffic, thus delivering better service for a successful end-to-end business solution.
Virtual Networking -—enables secure operation of up to 8 user groups over the same network
Quality of Service —ensures applications are prioritized according to DiffServ
Each SKYWAN 5G can be set up with several VRF instances, each utilizing completely independent IP address plans, networking stacks, network interfaces, routing protocols and individual QoS forwarding rules. VRFs segment the SKYWAN 5G satellite network into virtual private networks (VPNs) for various user or application groups using the same platform.
Virtual Channel Group – provides bandwidth to virtual networks, manages the physical link to ensure the defined committed information rates (CIR) per user group and provides excess bandwidth on top
Group Level CIR – provides guaranteed service levels per user or application group
Shared bandwidth resource – enables access to peak rates beyond Group Level CIR
The new VCGr ensures that a committed bandwidth threshold is not violated by other user groups' traffic. Operator-defined traffic profiles are enforced with the committed threshold. Whether a user group network can access shared bandwidth or not is easily controlled by configuration. The new VCGr software release is upgradeable to all SKYWAN 5G satellite routers.
With the VCGr upgrade, service providers can offer their customers virtual SCPC links in one SKYWAN network.
According to Helmut Jäckle, the roduct manager for SKYWAN, the benefit for both the user and application groups is that individual service guarantees (CIR) given per group are complemented by excess speed from the commonly shared bandwidth resource—each group in its VRF experiences its own MF-TDMA network and benefits from sharing some satellite bandwidth as an extra bonus. Additionally, another VCGr advantage is that it further increases the SKYWAN 5G VSAT platform efficiency in bandwidth utilization at reduced OPEX and setup times for the operator.