[Satnews] Russian satellite operator RSCC and the European service provider, Castor Networks, have entered into an agreement to provide satellite communications services using RSCC spacecraft Express-AM8 (14 degrees West).
The new satellite capacity will enable to expand the growing business of Castor Networks in the maritime industry and support the existing contracts with private mining and energy companies in Africa.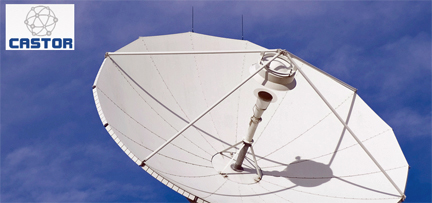 Under the terms of the contract, Castor Networks will use the capacity of two transponders on Express-AM8 satellite to provide communications services in the European, Latin American and Europe – African regions. In order to ensure the highest quality and reliability of services provided via Express-AM8 satellite, Castor Networks has installed a 9 meter antenna in their teleport based in Burum (The Netherlands). Castor Networks will also continue upgrading the ground-based facilities to support the operation of its teleport with the RSCC satellite fleet. In addition, the parties have agreed that RSCC will use the teleport in Burum to provide services through other RSCC satellites.
"The contract with Castor Networks is the first new project on Express-AM8 satellite commissioned on December 1, 2015. We have mutually developed some ready-made solutions for different market segments. RSCC and Castor Networks have been building productive partnership for almost 10 years, providing services to customers in Europe, the Middle East, and Africa through RSCC Express-AM6 (53 degrees East) and Express-AM44 (11 degrees West) satellites. With this new agreement, our companies are bringing some new solutions in Latin America and expanding the geography of our cooperation in Africa," said Ksenia Drozdova, Deputy Director General of RSCC.