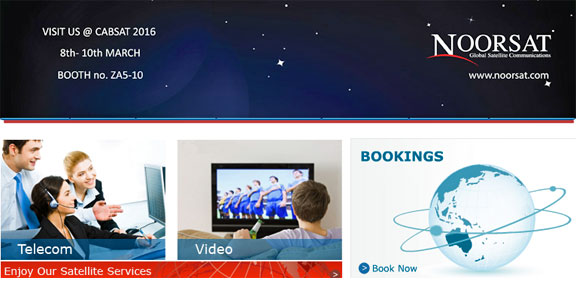 [Satnews] For satellite service provider NOORSAT®, CABSAT 2016 will hold special meaning, as the company prepares to celebrate its 10th Anniversary.
CABSAT, a pivotal regional satellite event, is set to reflect the great appetite for satellite services in the region, which is experiencing increased demand for both Direct to Home (DTH) TV and non-video services.

As the first privately owned satellite service provider in the Arab World, NOORSAT has achieved a great deal in the last decade and now carries more than 300 TV and Radio channels in SD and HD quality and delivers DTH TV services to over 50 million households across the region. The company's satellite capacity and impeccable customer service is highly sought-after.

Since its establishment in 2006, NOORSAT has gained significant market share in the DTH TV market and other services, such as telecom, video, telephony and Internet services. NOORSAT boasts premium capacity on the NOORSAT 7 and NOORSAT 7B satellites, both located at Badr Al Nile® at 7/8 degrees West, and the NOORSAT 1 satellite located at Badr Al Arab® at 25.5 degrees East, the only two hotspots that serve the Arab World.

Over the last decade, NOORSAT has helped broadcasters to embrace technological developments within the sector, enabling them to make a smooth transition from SD to HD. The company launched the very first real HDTV bouquet over the Arab World in 2009. In addition, NOORSAT has proved to be consistently highly responsive to the market trends that are defining the future of satellite such as the heightened demand for satellite data services across the Arab World. NOORSAT continues to support Arabic broadcasters with capacity to backhaul their regional programming to Europe and beyond. The company is sensitive to the heightened demand for indigenous content and has created a secure platform that enables them to extend their reach.
"NOORSAT has enjoyed ten years of steady growth," said Omar Shoter, CEO of NOORSAT. "2016 marks an important milestone in the company's development and we are using CABSAT as a platform to reflect on our journey, our history and heritage and to focus on the future at a time when there are so many exciting developments in our industry. Our extensive satellite capacity, modern ground infrastructure and in-depth knowledge of the region enable us to meet the increasing demands of this dynamic market and its future applications. We have been dedicated to delivering the very highest quality capacity and services to our customers for a decade, and we look forward to building on this strong foundation."
If attending CABSAT 2016, please visit NOORSAT in Zabeel Hall on stand ZA5-10.