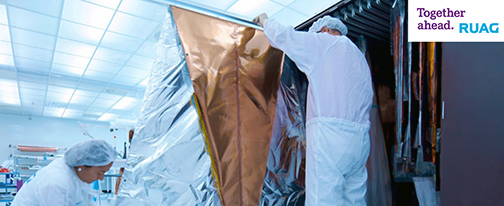 RUAG Space has debuted a new product line — the company has started providing thermal insulation for launch vehicles.
For the new product, RUAG Space can build on its established processes and competencies in the area of thermal hardware. The company is delivering the thermal insulation for the new European rocket Ariane 6, built by ArianeGroup, on behalf of the European Space Agency (ESA). ArianeGroup is lead contractor for Europe's Ariane 5 and Ariane 6 launcher families, responsible for both design and the entire production chain, up to and including marketing by its Arianespace subsidiary. The first launch of Ariane 6 is scheduled for 2020. In 2019 RUAG Space will complete the delivery of its thermal insulation for the Ariane 6 maiden flight.

RUAG Space will produce the new product line in a newly built clean room adjacent to its existing production facility in Austria, where the company currently produces multi-layer insulation for satellites and non-space areas. As a spin-off from its space activities RUAG Space is producing thermal insulation for medical applications, such as MRI scanners (Magnetic Resonance Imaging), and for the energy area, e.g. thermal insulation for Liquid Natural Gas (LNG) tanks.

Thermal insulation from RUAG Space protects almost every European satellite from extreme heat and cold in space, among those being the European-Japanese Mercury probe BepiColombo that was launched in October of 2018 and ESA's Solar Orbiter (scheduled to launch in 2020). Also, many international and commercial customers rely on thermal insulation from RUAG Space, such as telecommunications satellite constellations Iridium-NEXT and OneWeb. The high-temperature insulation for launchers consists of glass and ceramic materials.
Peter Guggenbach, CEO RUAG Space, said the company has more than 25 years of experience in high-quality thermal insulation for satellites. Building upon this knowledge, the firm enters a new market segment to produce thermal insulation for launchers. During the journey from Earth to space, the launcher engines have to withstand extreme heat from up to 1,500 degree Celsius for a few minutes. These temperatures are much higher than the typical -150 to +150 degree Celsius a thermal insulation for satellites has to withstand in orbit. However, the company can use a lot of the knowledge gained in more than 50 satellite projects.