[Satnews] ITC Global, a provider of SATCOM to remote and harsh environments, announces the company will be unveiling ITC Crew LIVE, their new comprehensive crew welfare solution leveraging the leading in-flight service entertainment technology, at OilComm 2015.
ITC Crew LIVE, which stands for LiveTV, Internet, Video and E-learning, will provide a new level of connectivity to offshore crews through reliable wireless access to the outside world. The technology will bring enable high-speed access to applications such as Skype, FaceTime, email, online banking, social media, news and entertainment.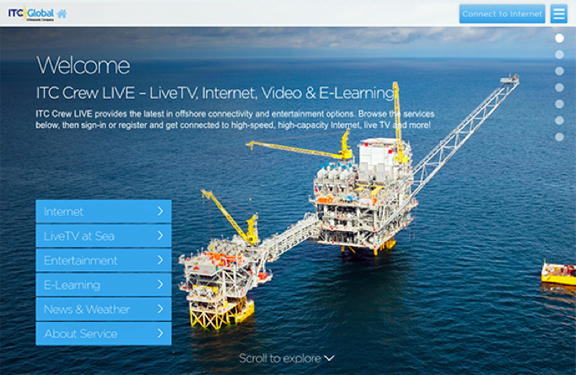 Whereas other crew welfare systems reside on the operations network, ITC Crew LIVE offers owners and operators a turnkey solution for crew welfare that stands apart from the operational platform and is supported by its own dedicated satellite equipment and bandwidth. This means added security and a redundant backup to the corporate network.
Offshore crews are significantly underserved with communications resources for off-hours or recreational Internet use. They are limited to small Wi-Fi access points operating on the corporate network or direct to home systems deployed on near shore assets in certain regions. Additionally, platform owners and operators are sensitive to an increasing millennial-aged workforce has grown to expect ubiquitous connectivity. ITC Global demonstrations and information will be available for the media at OilComm 2015.