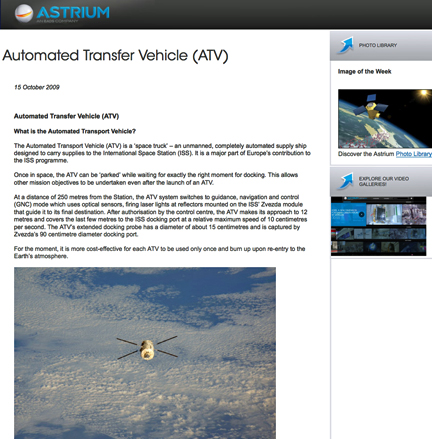 [SatNews] The fifth and final European automated transfer vehicle (ATV) built by Astrium, named "Georges Lemaître", is en route to the European spaceport in Kourou, French Guiana.
Astrium was commissioned by the European Space Agency (ESA) to develop and also produce the ATV. In addition to the production of the ATV supply spacecraft, Astrium is also responsible for carrying out all the services related to the operation of the European sections of the International Space Station (ISS) under the ESA Exploitation Agreement. This includes mission preparation and execution, astronaut training, the on-going development of experiments and research facilities, the maintenance and logistics for all European ISS components and the ground stations, along with overseeing the communication system and data transfer.
Similar to its predecessors, ATV-5 "Georges Lemaître" is being transported by ship in three special containers from Bremen to the European spaceport in Kourou. At the same time, around 80 sea containers full of test equipment are joining it on its journey. Final assembly of the spacecraft will be carried out at the Kourou spaceport, including the Integrated Cargo Carrier (ICC), the solar panels and the Separation and Distancing Module (SDM) which forms the interface between the ATV and Ariane. The ATV will then undergo further extensive testing on site before being integrated as a payload into the fairing of an Ariane 5, then fuelled and connected. The launch of the "Georges Lemaître" is scheduled for June 2014.
The ATV-4 "Albert Einstein" is currently a component of the International Space Station. As part of its mission the ATV-4 has performed regular re-boosting manoeuvres to maintain the ISS's nominal orbit. ATV-4 Albert Einstein will be undocked from the space station at the end of October and will then burn up during a controlled re-entry into the Earth's atmosphere.
A typical mission sees the ATV bringing water, fuel, food and scientific equipment to the ISS. At the end of its mission, the ATV is loaded with waste and undocked from the ISS before de-orbiting. As well as regularly re-boosting the ISS back to its operational orbit at a height of about 400 km, the ATVs rocket motors are used to manoeuvre the ISS to avoid possible collisions with space debris.
Weighing in at 20 metric tons, the ATV has a maximum net cargo capacity of up to 7 metric tons. The composition of this payload can vary depending on the mission: between 1.5 and 5.5 metric tons of freight and supplies (food, research instruments, tools, etc.), up to 840 kilogrammes of drinking water, up to 100 kilogrammes of gases (air, oxygen and nitrogen), up to four metric tons of fuel for orbit correction, and up to 860 kilogrammes of propellant to refuel the space station.