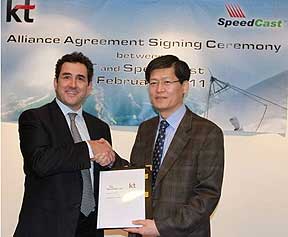 [SatNews] KT aligns with SpeedCast on the high seas.
KT today announced that it has signed an alliance agreement with SpeedCast Limited, a satellite telecommunications service provider, to deliver global maritime network services for its international maritime customers via SpeedCast's global Ku-band network.
In addition, the two companies agreed to closely cooperate to develop maritime business together.
By working together, both companies expect to grow their maritime business more rapidly by providing their customers with higher levels of service and coverage.
As part of the alliance agreement,
SpeedCast will provide access to its global Ku-band maritime network
for KT's international maritime customers.
In return, KT will provide SpeedCast with access to its own Ku-band coverage along the Korean coast line and beyond, using its Koreasat 5 satellite.
Furthermore the two companies will link their teleports and satellite hubs to offer their customers a more resilient and robust service.
By coordinating technically, KT and SpeedCast can achieve operational efficiencies, while also delivering expanded coverage and reach for their customers.
"This business alliance between the two companies will give great benefit to our international maritime customers, with the ability for them to roam globally along the major shipping lanes. This partnership with SpeedCast represents an important step forward in expanding our maritime portfolio to include a global satellite network based on Ku-band services."
Kwon, Yeong Mo
Senior Vice President of Satellite Business Unit, KT Corporation
"SpeedCast was the
first company to introduce a global Ku-band maritime service which allows vessels to switch seamlessly between all satellite beams within our network.
This business alliance with KT represents the importance of Korean maritime market and the Korean peninsula as a strategic part of our global service expansion. It is another milestone in our continued pursuit to expand our global network coverage and service by partnering with the "best in class" companies such as KT. We are delighted to have them as part of our maritime alliance," said
Nick Dukakis
,
Vice President of Maritime and Offshore Services, SpeedCast
.