[SatNews] "When high precipitation or moving a vessel or rig to a new location means changing bands, you no longer have to wait for your connectivity services to be manually re-activated, or pay for a technician to come and do it for you.
Cobham SATCOM will debut at Oilcomm 2014 the new Sea Tel 9711 Integrated Maritime Antenna (IMA) System, that introduces new features designed to support satellite service providers to deliver reliable connectivity while providing cost-saving flexibility for end-users in the oil & gas sector.
The new Sea Tel 9711 IMA can operate on C-band Circular or Linear or Ku-band X-pol or Co-pol. Unique to Sea Tel VSAT antennas, switching between VSAT bands is fully automatic and takes just a few seconds, due to sophisticated software and a precision mechanical system on the antenna itself. This means there is virtually no offline time for a vessel or platform's connectivity when switching between VSAT bands and by eliminating the need to manually change feeds and re-balance the antenna, the cost of deploying a technician for the job can be saved.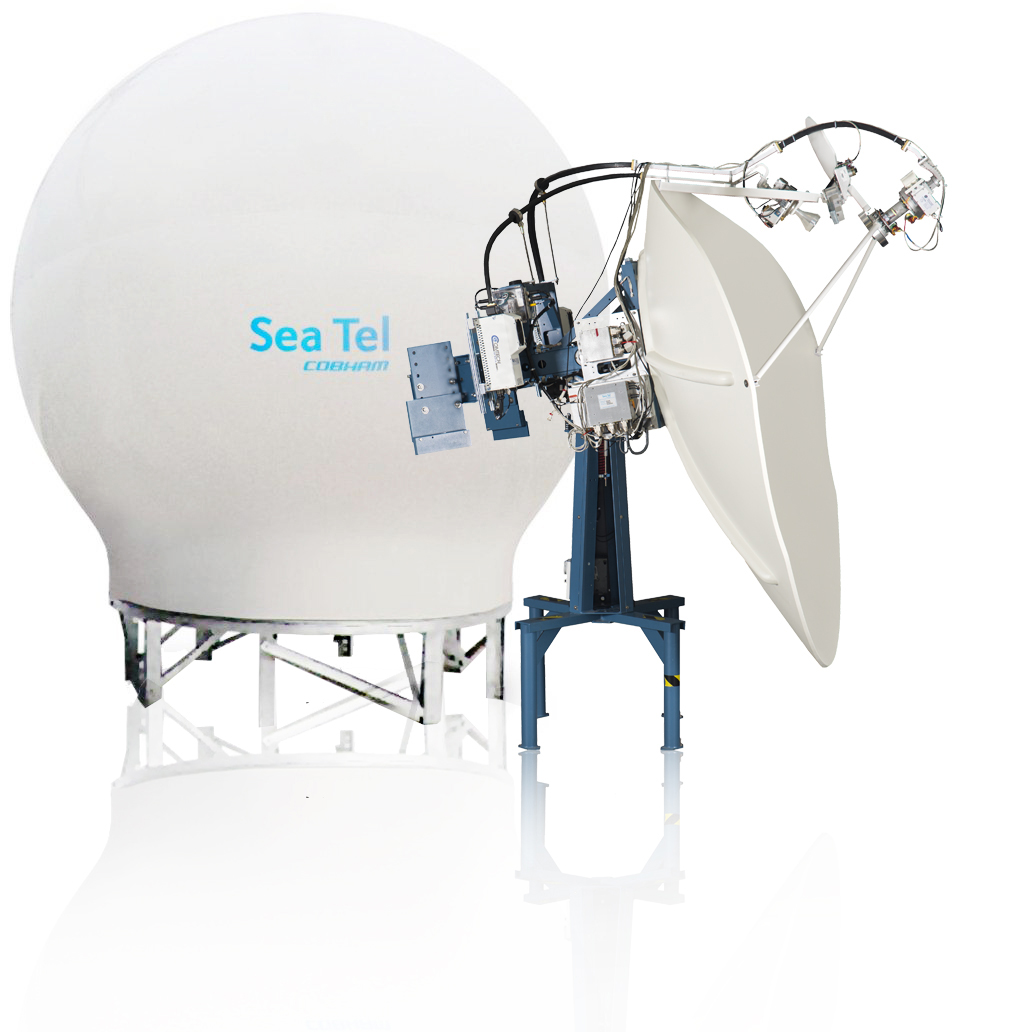 The Sea Tel 9711 IMA features a 2.4 meter radical offset antenna for both C-band and Ku-band operation. This offset design makes it the most efficient 2.4 meter antenna in the market today. The system utilizes the established Sea Tel IMA architecture, which features an Integrated Control Unit (ICU) as a single box electronic control solution to maintain the best and most efficient pointing accuracy.
With its extended web based secured user interface and built-in remote management capabilities, IMA offers integration into network management systems through its built-in Media Xchange Point (MXP). The Sea Tel 9711 IMA System is accessible from practically any Internet enabled device, including mobile devices and features Secured Socket Layer (SSL) password protection and multi-level data analysis capability for ease of use and added security.
"Providing high performance and reliability on both C- and Ku-band, the system ensures connectivity is always available regardless of environmental conditions or location," said Cobham Maritime Products Senior Product Manager Darren Manning. "When high precipitation or moving a vessel or rig to a new location means changing bands, you no longer have to wait for your connectivity services to be manually re-activated, or pay for a technician to come and do it for you. It's business as usual from the moment you arrive."
Find out more about the innovative new Sea Tel 9711 IMA system at Oilcomm 2014 at Cobham
SATCOM's Booth 101. For further information, please visit the Cobham infosite