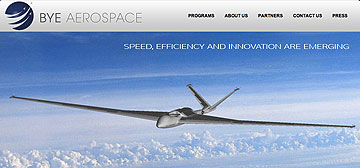 [SatNews] Brad Busse, President of Busse Ventures LLC, has joined the Board of Directors of Bye Aerospace, Inc.

George Bye, Chairman and CEO of Bye Aerospace, said Busse is an impressive addition to the company's board. "It is an absolute honor to welcome Brad," Bye said. "His expertise in the capital markets and communications technology is a significant benefit and an important component of our near-term strategy."

Most recently, Busse provided senior industry coverage across all industry groups for RBC Capital Markets, a wholly-owned subsidiary of the Royal Bank of Canada. Previously, he was Co-Head of the U.S. Communications, Media & Entertainment ("CME") Group for RBC Capital Markets, where he was responsible for the management and strategic development of the CME Group's business, which included mergers and acquisitions, equity and debt capital formation and financial advisory engagements. Busse joined Daniels & Associates in 1985, where he was responsible for building the Telecommunications Group, which completed more transactions in the wireline, wireless and telecom infrastructure sectors than any other investment bank during his tenure. Busse was President and one of two lead principals at Daniels & Associates when it was acquired by RBC Capital Markets in January 2007. He began his professional career at Arthur Anderson & Co. in 1980 and, subsequently, became a financial manager for a $1 billion energy concern.

Busse's numerous community service contributions include an appointment by Gov. Bill Owens to serve on the Colorado Commission on Science & Technology. In 2010, he was appointed by Gov. Ritter to the Colorado Commission on Early Childhood Leadership and was reappointed by Gov. Hickenlooper in 2012. He is a member of the Executive Advisory Board of the Daniels College of Business at the University of Denver which he chaired for three years, and is on the Board of Trustees of Mile High United Way which he also chaired for two years. From 2002 to 2007 he also served as Chairman of the Million Dollar Roundtable Council for United Way Worldwide and chairs the Executive Roundtable of EPIC (Executives Partnering to Invest in Children). Busse is an active member of Colorado Concern, a non-partisan association that addresses issues which impact Colorado's economy and lifestyle and whose membership includes most of the top business executives in Colorado. He has a bachelor's degree in accounting from the University of Denver and an MBA from Regis College.

Bye Aerospace recently flew a single-seat technology demonstrator of their solar-electric airplane, which is continuing additional flight tests at the company's office at Centennial Airport near Denver. The prototype is part of the ongoing development effort on Bye Aerospace's global communication relay concept called StratoAirNet, an advanced, high altitude, long endurance, 25-meter wing span, solar-electric UAV.
The Bye Aerospace infosite is located at http://www.byeaerospace.com/