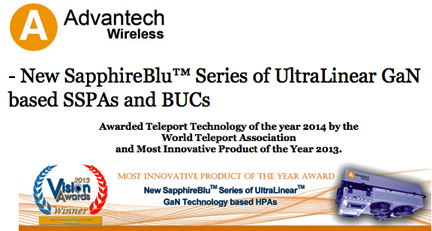 [SatNews] Advantech Wireless has successfully supported the live transmissions of the sports tournament in Brazil with its award winning 400W C-Band and 200W Ku-band SapphireBlu Series of UltraLinear GaN technology based High Power Amplifiers.

Awarded Teleport Technology of the year 2014 by the World Teleport Association, and "Vision Award" as Most Innovative Product of the Year 2013, Advantech Wireless' SapphireBlu™ Series of UltraLinear™ GaN based High Power Amplifiers are the ultimate solution for any uplink activity, such as content contribution, distribution and DTH TV.

Alex Pimentel, President at Casablanca Online, said, "We have chosen the Advantech Wireless HPAs for their incredible performance and reliability combined with the smallest form factor and power consumption on the market. We have been using Advantech Wireless product since 1999 and these products are still in perfect operational condition. However with the new requirements of HDTV and now UHDTV, we need more power per feed. We found in Advantech Wireless the reliable partner who delivers the best solution for our application in terms of performance, quality and delivery of the product and overall cost of ownership. We started upgrading our fleet of DSNG vehicles for full HDTV transmission capability, including HPAs a year ago and were ready a month before the tournament started with all our vehicles to transmit uninterrupted feeds to Brazil and countries around the world."

David Gelerman, CEO Advantech Wireless, said, "We found in Casablanca Online the real visionary partner who has committed long ago to undergo the major retrofit and completely rebuilt its DSNG vehicles in all aspects required to support high quality HDTV feeds to meet the most demanding requirements of today's contribution market. They have chosen the best technology from encoders to HPAs. We are proud that we are "inside" of the largest fleet of DSNG production vehicles in Latin America."
Additional information is available at this infopage.