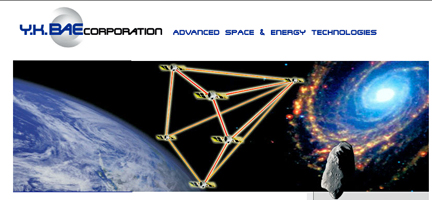 [SatNews] Y.K. Bae Corporation has been awarded $500,000 from NASA's Innovative Advanced Concepts (NIAC) Phase 2 program to further develop the company's innovative Photonic Laser Thruster (PLT) technology.
This two year research and development phase will result in a scaled-up laboratory demonstration of PLT propulsion with space qualified lasers in a vacuum environment. The NIAC award is intended to promote visionary technology concepts with the best potential to enable our understanding and future exploration of the cosmos.
Propellantless thrust beaming via recirculating photons between space vehicles by PLT technology was first developed and patented by Dr. Bae in 2007. Since then, space researchers have come to view PLT as particularly appropriate for cost-effective multi-vehicle, or formation flying applications. Where today's state-of-the-art spacecraft technology involves maneuvering by more costly, limited life-cycle, onboard ion thrusters, PLT uses non-contacting inter-body thrust exchange to enable unprecedented propellantless spacecraft maneuvers and to achieve and maintain precise vehicle positioning in space.
Traditional "all-in-one" single-vehicle architecture requires that mission-critical, expensive components accompany consumable components, such as fuel and main power supplies. With PLT it is conceivable that a highly valuable mission vehicle can be separated from a lower-cost, replaceable resource vehicle to exponentially lower life-cycle costs while extending missions in space indefinitely. Benefits of the PLT platform for future space missions also include:
Lower construction/operation costs from simpler hardware requirements
No environmental contamination or spacecraft/component damage during cross firing of traditional thrusters
No risk to personnel health, safety and environment
Ideal next generation propulsion system for both extended multi-year and near term space missions
Dr. Bae is currently exploring funding sources, collaboration and partnerships for the development and launch of a satellite mission to prove PLT in space.