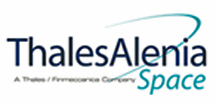 [SatNews] The integration of Sentinel 1 environmental satellite, built by Thales Alenia Space for European Space Agency (ESA), is being finalized in the Rome, Italy, clean rooms.
As prime contractor, Thales Alenia Space is responsible for the design, development and integration of the satellite as well as the platform. The satellite carries a C-band Synthetic Aperture Radar (SAR), built by Astrium and delivered to the Rome integration center in October. This radar, based on Thales Alenia Space's key technologies such as the Transmit-Receive modules inside the active antenna, has already been integrated.
The satellite will leave Rome for the Cannes plant at the end of November where environment mechanical qualification and final functional tests will be operated. The satellite will then leave Cannes plant early in February of 2014 to be available at the launch pad by the first trimester of next year.
In the frame of Copernicus (GMES) program, Sentinel 1 will be dedicated to several environmental applications among which: sea-ice monitoring, ships and iceberg detection, oil spill detection, ocean waves and currents, sea surface wind, land cover classification, land surface subsidence monitoring, risk management & emergency… The satellite was introduced today during a pre-launch press event at Thales Alenia Space Roma, in presence of Antonio Tajani, European Commission Vice President for Industry and Entrepreneurship.