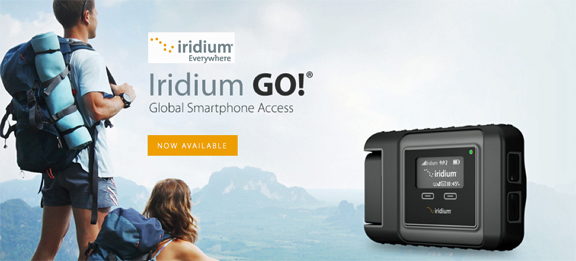 [SatNews] Iridium Communications Inc. (Nasdaq:IRDM) announces the availability of several mobile applications for Iridium GO!, a global smartphone-access device, designed to expand the utility of the unique device for its customer base.
Growing the ecosystem of supported apps for users' personal smartphones and tablets, the new offerings will enhance functionality of the Iridium GO! for key markets, such as maritime, outdoor recreation, lone-worker safety and aviation. The specialized applications, created through the company's third-party application developer program by companies that include OCENS, PredictWind and two10degrees Ltd., are optimized to deliver the best possible experience over the Iridium(R) satellite network.
Iridium GO! provides global voice and text messaging for smartphone users as well as targeted additional data capabilities and connects to any Android or Apple iOS smartphone or tablet, providing connectivity anywhere on the planet for up to five devices. Designed with durability and mobility in mind, Iridium GO! offers one of the smallest form-factors in the industry, is made with a rugged, rubberized finish and is powered by a rechargeable battery.
Mobile apps that are currently available to support Iridium GO! serve a variety of distinct markets and now include:
Grib Explorer Plus: Developed by OCENS, GRIB Explorer Plus melds GRIB weather and ocean data into detailed images carrying unparalleled insights into the environment around you.
PredictWind Offshore: Developed by PredictWind, the world leader in wind forecasting, the Offshore App allows users to download PredictWind GRIB files, weather routing, departure planning, GMDSS text forecasts and satellite imagery for your next offshore passage.
QWIP: Developed by OCENS, Quick Web Information Pulls (QWIP) pulls information on news, stocks, sports and more and cost-effectively delivers it to your device. GeoPro: Developed by RoadPost and two10degrees Ltd., GeoPro is a comprehensive lone-worker safety, monitoring and communication service that makes it easy to keep in touch with your workforce, and addresses even the most rigorous lone-worker legislative requirements.
Flycast: Developed by OCENS, Flycast is an app for the aviation market that provides flight-specific aviation weather forecasts out 12 hours for any location on Earth.
Iridium is seeing continued growth of its application developer program, which now has more than 55 developers from various verticals designing apps that work with the Iridium GO! platform and the Iridium satellite network.
Iridium also announced an Iridium GO! firmware update, enhanced Iridium GO! app, and Iridium Mail & Web app which includes support for the latest Android 5.0 platform and higher, as well as enhanced browsing on Apple iOS. Iridium GO! is available for purchase through Iridium's partners and global distributors.
Executive Comment
"The diverse range of apps being developed is driving interest in and adoption of the Iridium GO! and providing users with entirely new ways to benefit from the device," said Joel Thompson, vice president and general manager, terrestrial business unit, Iridium.