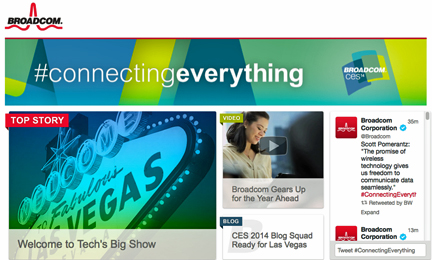 [SatNews] Broadcom Corporation (NASDAQ: BRCM) has announced two new system-on-a-chip (SoC) devices for entry-level satellite set-top boxes (STBs).
Broadcom's BCM7364 and BCM7399 direct broadcast satellite chips are engineered with the advanced high-efficiency video codec (HEVC) standard to enable satellite operators to deliver more channels of HD content to a broader subscriber base over existing network infrastructure. Visit Broadcom's 2014 Consumer Electronics Show (CES) site to learn more at http://www.connectingeverything.com/.
As home subscribers around the world continue to consume more HD content, operators must provide the necessary bandwidth for delivery in STBs. With integrated support for the HEVC compression standard, the new SoCs deliver high-quality 1080p60 HD content at up to 50 percent of the bandwidth required today.
Key Features and Benefits:
Second-generation digital video broadcasting (DVB-S2) technology in 28nm process
Integrated Full Band Capture (FBC) front-end receiver
Single FBC tuner and one to two DVB-S2 demodulators
Integrated MoCA 2.0
HDMI 2.0 and Component Output
Single Core B15 ARMv7-CPU, 5K DMIPS (BCM7364) and 2K DMIPS (BCM7399)
HEVC decode 1080p60 (10bit) with 4K-x-2Kp60 upscale
OpenGL ES 2.0 Graphics Engine
Broadcom's portfolio of HEVC entry-level satellite chipsets are currently sampling.
The company has also announced a new Outdoor Unit (ODU) satellite chipset that enables operators to deliver a wider range of services to more subscribers without additional satellite dish installations.
Access to free-to-air channels provided by a range of satellites has stimulated demand for satellite TV among residential customers worldwide. Up to now, installation cost and the need for separate coaxial cable for each set-top box have resulted in higher deployment cost for satellite operators. Broadcom's BCM4551 addresses these issues, as well as regulations in countries that set a limit on the number of satellite dishes per building.
Broadcom's BCM4551 also offers a higher level of integration, while consuming less power than the previous generation chipset, and it enables direct sampling of low-noise block (LNB) outputs across worldwide ODU satellite markets. The simplified design of Broadcom's new ODU chipset also allows 24 DVB-S2 channels to be stacked on a single coaxial cable to service any set-top box in a home, simplifying and reducing satellite operator installation costs.
Key Features and Benefits:
Second generation with reduced power and better integration in 28 nm process
8 RF inputs and 1RF output covering the 250 to 2350 MHz frequency range
24 user-band output channels
24 output channels selectable from any LNB input
Frequency shift keying (FSK) and digital satellite equipment control (DiSEqC)
Broadcom's BCM4551 is also currently sampling.