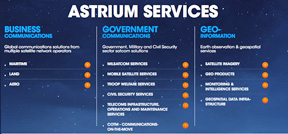 [SatNews] Astrium Services has opened a new office in Rio de Janeiro—this new office will focus on
sales and support for service providers in the region. It will also be an important link for Norwegian customers of
Marlink
, Astrium Services' direct sales channel, many of whom have significant operations in Brazil.
The new office is run by newly appointed Sales Director and Country Manager for Brazil, Fabio Riccetto. With more than 20 years' experience in telecom sales and marketing, Riccetto provides the much needed local connection in Brazil. Under Riccetto, the new office will be responsible for direct and indirect sales and will support current and prospective Service Providers and End Users in Brazil.
"Brazil is a growing offshore and shipbuilding centre so the need for reliable and cost-effective communication is high," says Riccetto. "Astrium Services already has a strong customer base in South America but with our office in Rio, we are better positioned to develop our business and support Brazilian and international customers operating in the region."
Today, one out of two vessels across all maritime sectors worldwide uses Astrium Services.