Perhaps there is a special person who enjoys boating, fishing, hiking, hunting or any adventurous activity and is in need of a special gift.
The perfect solution could be a Personal Locator Beacon (PLB), a compact device which uses the 406 MHz distress frequency to alert the proper authorities in a life-threatening emergency.
An example of the usefulness and timeliness of a PLB offers Yan Qu, who was given an ACR Electronics ResQLink PLB as a holiday gift from a boyfriend and proved to be possibly the best present she ever received.
A day after receiving the PLB, she set off with a friend for a mountain hike in the Angeles National Forest, carrying her new PLB. However, when the trail disappeared, they attempted to climb up to Angeles Crest Highway to their car, but were caught by the darkness and cold about 500 feet above the stream bed. The friends were forced to activate their beacon and the device sent their GPS coordinates to the NOAA SARSAT mission control center, which in turn notified The Los Angeles County Sheriff's Department. Seven members of the Montrose Search Rescue Team were activated and located them on the cliff. They were then able to rope the hikers down from the cliff and the group hiked out of the canyon. The rescue was complete by 2:00 a.m.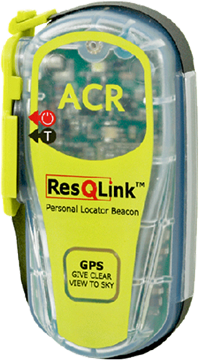 Weighing just 5.4 ounces and measuring 4.5 inches in length, the ResQLink uses GPS positioning, a 406 MHz signal and 121.5 MHz homing capability to quickly and accurately relay the user's position to a worldwide network of search and rescue satellites. The unit is small enough to be carried in a pocket, clipped to a backpack or stored inside an inflatable life jacket.
Yan said, "In that five to six hours waiting time, we felt so cold and so anxious. We had no choice. If we stayed, we didn't know whether people would find us and rescue us before we froze to death. If we moved, we could get injured or killed. Once we saw the light from the mountain across the canyon, we stopped shivering. I think that was the power of hope. The second day, I gave a big hug and kiss to my boyfriend. He gave the PLB beacon to me as the holiday gift just one day before the hike. What a blessing." and fortunate Christmas!"
For anyone who becomes a member of ACR Electronics' SurvivorClub after activating their beacon, like Yan, ACR will replace the unit at no cost to the owner. The SurvivorClub was established by ACR Electronics and has featured more than 160 stories from real-life survivors across the world.