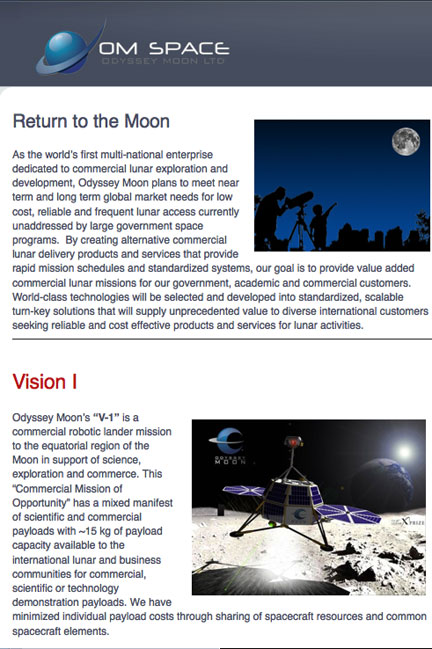 [SatNews] Odyssey Moon Ltd. and Israeli-based NSL Satellites Ltd. in partnership with NanoRacks LLC of the U.S. will fly...
...a number of educational microgravity experiments to the International Space Station (ISS). The next launch of an experiment is scheduled for October 7th on board a SpaceX Falcon 9 rocket rocket from Cape Canaveral.
Rick Sanford, CEO of Odyssey Moon, said, "We at Odyssey Moon are so excited about this opportunity to give students around the globe access to the NASA U.S national lab. For a start-up space technology company it is very impressive that we have lined up over three successful commercial space missions in a three year period."
The three different experiments will look at how cancer cells develop in microgravity, another will determine the direction of the sprouts/roots growth of radish seeds under microgravity, and there is an experiment to examine the hardening of an epoxy resin sample to test the characteristics of the mix microgravity conditions. These experiments are being developed by Israeli students in the Misgav Middle School and the OR High School.
The project is enabled through NanoRacks LLC, which is working in partnership with NASA under a Space Act Agreement as part of the use of the International Space Station as a National Laboratory. Says Managing Director Jeffrey Manber, "NanoRacks is delighted to again be working with the educational community, this time for showing students the potential of using space as a tool for learning."