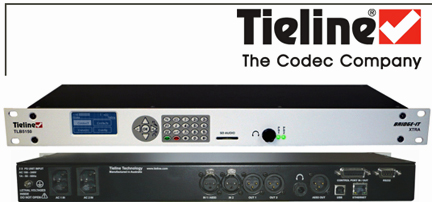 [SatNews] Tieline has announced the release of a new, affordable 1RU STL and multi-point IP audio codec called Bridge-IT XTRA.
Bridge-IT XTRA is recommended for low cost STLs, Studio-to-Studio Links and even affordable remote broadcast links. Combine Bridge-IT XTRA with Tieline's Report-IT Enterprise smartphone apps to create an extremely cost effective and high quality remote solution. It also features multicast capability over compatible IP networks. Bridge-IT XTRA features SD/SDHC card backup to MP2 or MP3 files and the codec will automatically play backup audio if your IP service fails.
The codec can stream 24bit, 48kHz linear audio and standard broadcast algorithms include Tieline Music and MusicPLUS, LC-AAC and HE-AAC v.1 and v.2, aptX® Enhanced, MPEG Layer 2, G.711 (u-law and a-law) and G.722.
"Bridge-IT XTRA includes Tieline's proprietary SmartStream technology used by thousands of broadcasters across the globe," said John Lackness, VP Sales Americas. "SmartStream features like Automated Jitter Buffer management, Forward Error Correction and advanced error concealment strategies, maintain rock solid connections over unmanaged IP connections like the public internet."
The codec can be remotely configured and managed using the ToolBox web browser configuration tool and Tieline's Codec Management System allows you to use any computer to manage your entire network of IP codecs remotely.