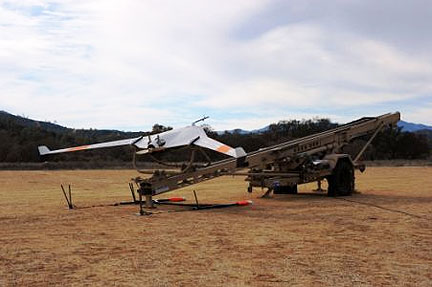 [SatNews] With a smaller logistical footprint, and more power, the first successful flight has occurred...
AME Unmanned Air Systems
has announced the first flight of the
Fury 1500 Small Tactical Unmanned Aerial System
powered by a heavy-fuel engine. The successful flight occurred April 5th at the
Fort Hunter Liggett
range on California's central coast. Use of a heavy-fuel engine, the latest upgrade to the Fury, significantly increases the capability of the system and decreases its logistical footprint, while increasing its endurance substantially, the company said.
"We are extremely pleased with the success of this flight, the new heavy-fuel high-endurance version of the Fury 1500 will allow for long-duration ISR and EW special missions," said
John Purvis
, president and chief executive officer of AME UAS. "Everything from launch through engine performance, flight and recovery went extremely well. With this high-endurance version of the Fury 1500 we will ensure significantly more 'on-target' dwell time for special mission operations."
The Fury 1500 is a long-endurance, runway-independent Multi-INT UAS, providing the large, multi-payload capacity needed to satisfy critical requirements for the warfighter. It has a range of 1,500 nautical miles and a high speed of 125 knots. It carries a maximum payload of about 125 pounds. The Fury UAS, which was designed for multiple special missions, had its initial flight in 2008. AME said the successful test also included the
Robonic
premium UAV Launcher System supplied by
Robonic Ltd
. of Finland.