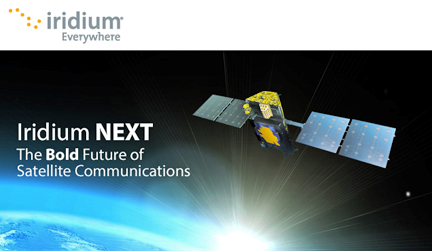 [SatNews] Iridium Communications Inc. (Nasdaq:IRDM) has delivered the first satellite engineering model for the upcoming Iridium NEXT constellation.
The satellite, which arrived at Iridium's Technical Support Center (TSC) on Tuesday, July 29, 2014, is fully-functional and capable of supporting all of the verification and performance of a flight-ready satellite. Once integrated into the existing constellation testbed, Iridium will use the satellite to demonstrate Iridium NEXT performance, as well as to verify compatibility with Iridium's current constellation. Beyond compatibility testing, the model also allows Iridium to "test-as-you-fly" using an Iridium NEXT satellite prior to launch. The model will be connected to the Iridium Satellite Control System, enabling command and control testing with actual flight software and flight hardware.
The Iridium TSC is an integral part of the Iridium® network and has been providing on-orbit operation and maintenance support since 2001. In addition to the testbed, the TSC includes Iridium's backup operations center and the qualification and testing lab where products are vetted for use on the Iridium network. The entire TSC facility supports the overall Iridium concept of test-before-deployment, and the addition of the Iridium NEXT satellite model provides another great asset in the Iridium test and verification capability. The Iridium NEXT satellite network will consist of 66 in-orbit satellites, and a number of in-orbit spares. The constellation is scheduled to begin launching in 2015 and is expected to provide service to 2030 and beyond, while offering customers greater bandwidth and data speeds.
"We are very excited about taking delivery into the lab of the first Iridium NEXT-capable satellite, enabling us to test compatibility and functionality of the new satellites and supporting operational capability, which is an enormous step toward the launch of Iridium NEXT," stated Scott Smith, chief operating officer, Iridium Communications Inc.
For more information on Iridium NEXT, please go to http://www.iridium.com/.