[SatNews] WebNMS, a provider of scalable software platforms for multi-vendor network management and IoT solutions, and Option, the company Connecting Things to the Cloud, have successfully integrated Option's CloudGate smart M2M gateway with the WebNMS IoT Platform—the combined solution provides a simplified path to scaling IoT/M2M applications for secure B2B infrastructure.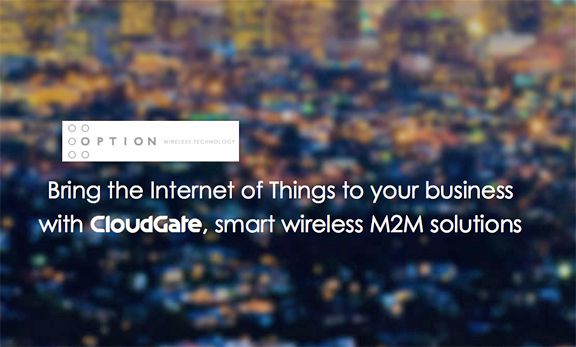 As enterprises look to connect a variety of sensors with cloud-based IoT applications, they need remote, embedded gateways to intelligently aggregate sensor data. To scale across different service provider networks, these mission-critical gateways must support diverse wireless connectivity and maintain seamless interoperability with central IoT applications. As the IoT ecosystem evolves, rapid innovation will increasingly depend on integrated open platforms that host industry-specific IoT apps.
Option's smart M2M gateway, CloudGate, offers a flexible and modular hardware platform with an open source operating system and software development kit (SDK). The WebNMS IoT Platform, an Application Enablement Platform (AEP) with open APIs, includes both a scalable, centralized IoT management environment and a remote software agent that intelligently manages sensor data collected on a remote gateway. WebNMS has integrated the WebNMS IoT remote agent on the CloudGate gateway, ensuring platform compatibility. This solution will accelerate the deployment of IoT applications at scale. For example, by combining this cooperation with a WebNMS IoT application, such as its Cell Tower or Windmill Manager, the solution shortens a one year system development cycle to a few weeks.
WebNMS is demonstrating its IoT Platform and its portfolio of B2B applications in booth IoT-7 at the IoTX conference, running today through June 9 at the Dubai World Trade Center.
Executive Comments
"Our cooperation with WebNMS strengthens our ecosystem for enterprise-class IoT solutions connected with our CloudGate platform," said Frank Deschuytere, CEO at Option. "CloudGate provides flexible wireless connectivity as well as universal sensor interfaces that adapt remote devices to the multi-operator network footprints that are required to scale enterprise applications. The WebNMS IoT Platform ties our solution into cloud-based IT infrastructure, complementing the scaled network with scalable centralized management, including federation with big data analytics."
Prabhu Ramachandran, director of WebNMS, said, "The CloudGate gateway delivers tremendous flexibility for our customers who see scalable connectivity to their remote B2B infrastructure as vital to optimizing their businesses. We are committed to open solutions. This cooperation expands our ecosystem with a hardware platform supported by global network operators, including operators in the U.S. and Europe."