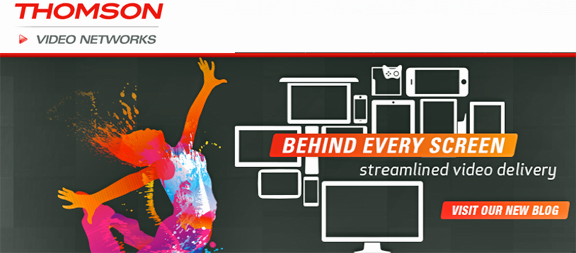 [SatNews] WINCH Capital 3, run by Edmond de Rothschild Investment Partners, has purchased a 49 percent stake in Thomson Video Networks
Thomson Video Networks specializes in head-end networks and offers operators, suppliers of video services, and video broadcasters comprehensive compression and transcoding solutions to ensure top-quality video signals and optimized bandwidth whatever the network (satellite, terrestrial, IPTV, cable, or OTT). The group, headquartered at Cesson-Sévigné, has 16 sites throughout the world and employs more than 400 people. Sales amount to around USD $100 million, of which 90 percent is in exports.
Thomson Video Networks resulted from a spin-off from the Technicolor group in 2011, a deal led by the company's executive management under Christophe Delahousse and with the assistance of the FCDE investment company. After the large-scale transformation of the newly independent company, Thomson Video Networks' management wished to accelerate growth and bolster its leadership in its historic satellite and terrestrial TV markets while becoming an essential player in new segments such as over the top (OTT) video and IPTV. These new markets are enjoying strong growth with rapid multiplication of content and offerings like live/catch-up video and video on demand via PCs, tablets, and smartphones. To achieve this goal, Thomson Video Networks boasts a revamped product offering, a global sales and field services network, and robust finances.
To accompany Thomson Video Networks on this ambitious growth plan, WINCH Capital 3 was selected to succeed FCDE after a competitive process organized by DC Advisory. Winch Capital 3 has been joined by CMC-CIC Private Debt and the company's executive team has reinvested all its proceeds.
"This investment in Thomson Video Networks fully embodies our new WINCH Capital 3 fund strategy: to invest in an international, midsized company with an executive team that has increased its equity stake to roll out an ambitious development project with identified external growth opportunities," said Sylvain Charignon, partner, Edmond de Rothschild Investment Partners.
Christophe Delahousse, CEO of Thomson Video Networks, said, "We are now fully equipped to accelerate growth and deploy our new 'Behind Every Screen' strategic approach, combining on-premises and cloud-based resources to help operators preserve video quality and control cost of ownership for broadcast and multi-screen services. Thomson Video Networks will be able to capitalize on its enlarged and innovative product and solutions portfolio, its global sales network, and the financial strength and expertise of Edmond de Rothschild Investment Partners for external growth projects."
Thomson Video Networks infosite: https://www.thomson-networks.com/
Edmond de Rothschild Investment Partners infosite: http://www.edmond-de-rothschild.fr/