[SatNews] Iran's Defense Minister General Ahmad Vahidi says Tehran plans to unveil a new range of missile and satellite projects during the Ten Days of Dawn celebrations.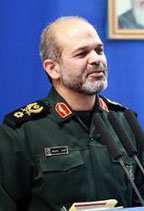 "Fajr (dawn) is the first satellite with the ability to change from the elliptical orbit of 300-450 kilometers to a circular orbit of 450 kilometers which increases the life expectancy of the satellite by one year and a half,"
Vahidi
said on Sunday. The
Rasad
(observation) satellite is the country's first satellite for photography,
Vahidi
said at the inauguration ceremony of the Middle East's biggest center of laboratories for testing space structures and systems."The thrust of the Safir (ambassador) 1-B rocket engine has been increased from 32 to 37, and it can carry a satellite weighing 50 kilogram's into an elliptical orbit of 300 to 450 kilometers," IRNA quoted the Iranian defense minister as saying. The other rocket,
Kavoshgar
(Explorer)
4
, has the ability to carry space laboratories containing biologic cargos within a range of 120 kilometers, Vahidi added.
Earlier this month, the Iranian Defense Ministry delivered new naval cruise missile systems to the Navy in yet another move to boost the nation's defense capabilities. The Navy has successfully test-fired a range of powerful missiles mounted with laser technology, which display high precision and have a range of 45km (28 miles) to 300km (186 miles). Iran also unveiled its first domestically-manufactured long-range Unmanned Aerial Vehicle (UAV) in 2010. The
Karrar
UAV is capable of carrying a military payload of rockets to carry out bombing missions against ground targets. It is also capable of flying long distances at high speeds. The Islamic Republic also unveiled its first major space center in 2008 by launching the first Iranian rocket,
Explorer-1
, into space.