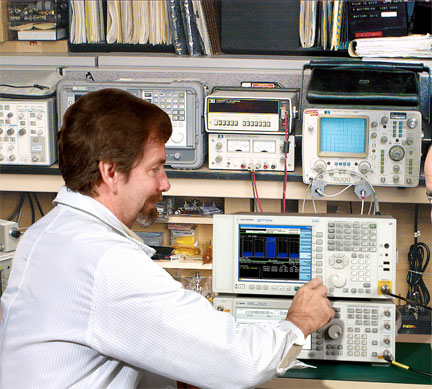 [SatNews] Agilent Technologies Inc. (NYSE: A) has unveiled two new frequency options for the...
...N9000A CXA X-Series signal analyzers. The new options provide a low-cost solution for essential microwave signal characterization up to 13.6 and 26.5GHz. Brian LeMay, general manager of Agilent's Chengdu Instruments Division, said, "Adding microwave frequency options for the CXA goes beyond the norm and provides essential signal characterization. These options also provide a foundation for cost-effective testing and seamless integration with other X-Series models, which reduces capital expenditures." To help customers meet tighter test requirements and enhance test margins, the N9000A CXA signal analyzer capabilities include:
Best-in-class performance such as:

-163 dBm displayed average noise level (DANL) at 1 GHz, -147 dBm at 26.5 GHz with preamplifier on
-102 dBc/Hz phase noise at 10 kHz offset, 1 GHz carrier
Third-order intermodulation (TOI) of +15 dBm at 1 GHz, +14 dBm at 26.5 GHz

Quick measurement of spurs and harmonics due to the CXA's speed and DANL performance
One-button measurements such as channel power, adjacent channel power and occupied bandwidth provided with PowerSuite
Easy-to-configure measurement applications such as phase noise and noise figure
Upgradable CPU module
Agilent will demonstrate the CXA and its newest test and measurement solutions in microwave, millimeter-wave, wireless, radar, antenna for telecommunications, transportation and medical markets at European Microwave Week (Booth 114), RAI, Amsterdam, Oct. 29- 31.