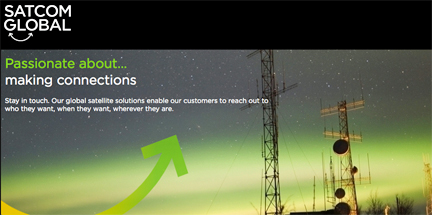 [SatNews] Satcom Global has launched Satcom Global LLC, Russia; a licensed mobile satellite communications distributor for the Russian Federation.
Satcom Global LLC, Russia sits under the Satcom Global umbrella group of companies and is a provider of global satellite services to the maritime, land and aero markets, providing voice and data solutions for users in remote locations outside terrestrial networks. With the launch of operations in the Russian Federation, Satcom Global will provide mobile satellite services and VSAT, occupying a significant position in the complex market of satellite communications services in Russia.

Elena Lu-Ke-Su, CEO of Satcom Global LLC, Russia, said, "Satcom Global LLC, Russia, brings together a team of experienced staff, boasting an in-depth knowledge of the needs of Russian consumers, with the traditional values and global scale of Satcom Global. We now have the solid foundations to become a market leading satellite communications provider in Russia, where we will provide a truly personalized service to our customers offering a wide range of services, equipment and solutions to best fit their needs. We work through partnerships built on reliability, responsibility and honesty, and pride ourselves on being flexible and offering competitive pricing to our valued customers."

Following an increase in demand for innovative, cost-effective and flexible satellite communications solutions, the Satcom Global group of companies has recently repositioned itself as one united and strong, global brand which will serve the growing needs in the maritime, land and aeronautical markets.

Ian Robinson, CEO of Satcom Global, said, "Opening this new regional office signifies a great step forward in the company's international growth strategy. These continuous and strategic developments provide new opportunities for innovation and further expansion, where customers can experience benefits of scale such as a highly competitive cost structure. Expanding our global reach is also being carefully supported by upgrades to our global data communication network and improvements to our 24/7 customer support function. We are passionate about making connections and committed to providing the best customer experience possible, no matter where in the world our customers are based.''

The opening of Satcom Global LLC Russia is the latest show of continued growth and strength from Satcom Global, which has already fielded 125 experts that are based in more than nine countries around the world.
The Satcom Global infosite may be reached at http://www.satcomglobal.com/