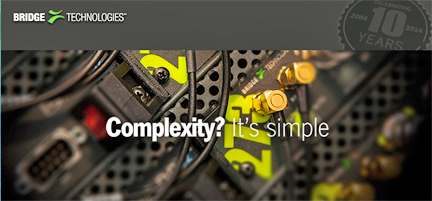 [SatNews] Bridge Technologies (IBC2015 @ Stand 1.F68) has unveiled a new graphical data analysis technology that allows users to play through recorded data in an NLE-style Timeline display to observe correlations and patterns of errors occurring over any time period.

The Bridge Technologies Archive Server provides the data recording capacity in a simple connect-and-forget form, with each Archive Server module retaining two years' recorded data for up to 25 services. When connected to the Bridge Technologies VBC controller and configured through a simple setup routine, the Archive Server automatically activates the VBC's Timeline analysis capability for an enormously powerful new way to analyse historical data in depth.

Users can scrub through the data at any point in the recorded archive, opening and collapsing data tracks, and zooming in to observe fine detail on all the visible tracks. The Timeline shows content thumbnails, alarm markers and all the metrics familiar from the MediaWindow displays, making visual navigation through the data simple and quick. Users can drag and drop data tracks to group them in any order for convenience. Engineers can search through the chain of events that led up to service failures, and generate reports for remedial action or fulfillment of regulatory SLA obligations.
The Archive Server and Timeline capability also simplifies detailed and comprehensive reporting for regulatory verification of closed caption conformance, loudness, SCTE35 signalling, RF trending and other parameters. The easy-to-set-up archive server units can be added quickly to any Bridge Technologies monitoring system, and subsequently function without further attention.
Executive Comment

"The Timeline functionality enables operators without a high degree of technical knowledge to go back and explore, understand, verify and document in complete detail what happened at any given time, or look for patterns over longer periods of time—a year say, or more—to identify and eliminate problems," said Simen Frostad, Chairman of Bridge Technologies. "During service operations, when an error or failure occurs, engineers prioritize fixing the fault, and often in the heat of the moment there is not time for them to understand the root causes. Now, the Timeline feature makes it easy to review the data after the event in a completely transparent and graphical way, to gain unprecedented insight into service errors."