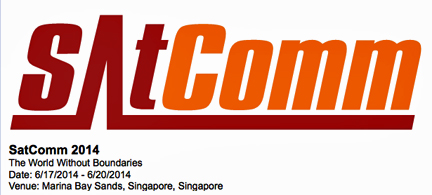 [SatNews] SatComm2014 will, once again, unveil the largest contingent of satellite companies witnessed at any single ICT trade event in Asia from June 17th through the 20th at the Marina Bay Sands Convention Center, during the upcoming CommunicAsia2014 trade exhibition.

SatComm2014 will feature more than 160 global and regional satellite and satellite-based communication enterprises present this year. Confirmed exhibitors include APT Satellite, Asia Broadcast Satellite (ABS), Asia Satellite Telecommunications (AsiaSat), China Satellite Communications, Eutelsat, Gilat, Inmarsat, Intelsat, MEASAT, Newtec, SES, Singapore Technologies Electronics, SingTel Satellite, THAICOM and many more.

Commenting on their showcase at SatComm2014, Mr. Lim Kian Soon, Head of returning exhibitor SingTel Satellite, said, "Asia's satellite landscape is currently undergoing a phase where several prevalent trends can lead to wider growth streams for industry players. For instance, we see an increasing adoption of broadband services in the maritime business. Demand for cellular backhaul is also on the rise, fuelled by growing data demands and the move to faster networks. DTH will continue to be the key driver for the growth of transponder demand this year where we see a boom in Asia. SingTel Satellite will be showcasing a series of innovative satellite services and solutions for broadcasters, enterprises and government agencies at SatComm2014. Our Playout and "Over-the-Top" (OTT) broadcast solutions will provide the next generation of content management services and provide users with a whole new way of viewing content. SatComm2014 is an ideal platform to meet potential partners for strategic business partnerships and collaboration as well as to keep abreast of the latest technology so as to stay relevant to the satellite industry"

Exhibitor and product highlights:
AsiaSat—AsiaSat 6 and AsiaSat 8 will expand its capacity and services in C and Ku-band complementing AsiaSat 3S, AsiaSat 4, AsiaSat 5 and AsiaSat 7. The company will also showcase its comprehensive solutions on broadcast, MCPC platform, telecommunications, occasional use and broadband services.
Iridium Communications—Iridium introduces the first global data broadcast services – Iridium Burstsm enabling enterprises to send data to an unlimited number of devices anywhere on Earth whether inside buildings, in-vehicle or in aircraft. From tsunami warnings to weather and traffic alerts, over-the-air updates and other machine-to-machine (M2M) applications, Iridium Burst presents an unrivaled opportunity for businesses, government agencies, militaries, and other entities needing to broadcast data.
MEASAT—The MEASAT fleet supports leading DTH platforms in Malaysia, Brunei, India and Indonesia, providing DTH multi-channel television services to over 18 million subscribers. The fleet is also used by many leading international channel operators to distribute television programming to pay television platforms, and by telecommunications operators to support remote connectivity, cellular backhaul and corporate VSAT networks.
SingTel Satellite – Worldwide Launch—SingTel's Playout and Content Management solutions offer a new eco-system for content delivery. It provides flexibility and scalability from a single-channel application to a large multi-channel playout facility when required. The solution allows content providers to increase efficiency and reduce costs by simplifying workflows and publishing to linear and non-linear platforms.
Thuraya Telecommunications—Thuraya has pioneered BYOD for the satellite industry with their game-changing Thuraya SatSleeve. The perfect blend of mobility and simplicity, Thuraya SatSleeve is the smartest, fastest and simplest way to transform a phone into a satellite smartphone. Thuraya SatSleeve provides access to phone calls, emails, instant messages and popular social media apps in satellite mode across 161 countries within its coverage network.
Complementing the SatComm exhibition, this upcoming edition of CommunicAsia Summit will bring two new Satcomm tracks focusing on competitions in Asia, High Throughput Satellite (HTS) and VSAT mobility markets—land, aero and maritime. On June 18th and 19th, delegates will once again get to hear from and engage with a stellar panel of speakers, who will divulge valuable intelligence on the transformation of Asia's satellite landscape.

Key topics and speakers include:

June 18th
Chairman's Address by Kevin French, Publisher & Founder, talk Satellite
Opening Speech by Yutaka Nagai, President, APSCC
HTS: Where We Stand And Where Are We Going? by Erez Antebi, CEO, Gilat Satellite Networks
Satellite Operators Power Panel: Determining the Level of Competition and the Need for Added Value in Asia. Panelists include:

Philip Balaam, VP, Business Development, AsiaSat;
Mohamed Youssif, COO, ABS;
Pierre Benoist d'Anthenay, Deputy CEO, Eutelsat Asia;
Adrian Ballintine, CEO, Newsat;
Patompob (Nile) Suwansiri, Vice President, Marketing and Business Development, THAICOM;
Ng Guan Soon, Head of APAC, Thuraya Telecommunications
June 19th
Market Overview: Examining the Rise of VSAT Mobility in the Different Segments by Blaine Curcio, Analyst, NSR
Making the Most of the HTS Revolution by Mario Querner, VP Asia, Newtec
Advancing Aeronautical: The Rise of Inflight Connectivity by David Bruner, Vice President of GCS business, Panasonic Avionics