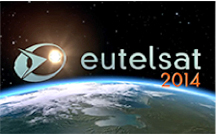 [SatNews] Following the successful launch of the EUTELSAT 3B satellite on May 26, the company has announced that the satellite is fully fired up and providing commercial services at 3 degrees East.
Eutelsat's newest satellite is designed to increase and diversify capacity and reach of Europe, Africa, the Middle East, Central Asia and Brazil. The first commercial satellite to assemble Ku-, C- and Ka--band payloads in a single platform, EUTELSAT 3B can operate as many as 51 transponders through an innovative configuration that enables customers to select the frequency band most adapted to their applications and targeted service area.
Overnight transfer of customer traffic onto the new satellite from the two Eutelsat satellites already at 3 degrees East (EUTELSAT 3D and EUTELSAT 3A) was completed by July 5th. Having completed their missions at 3 degrees East, both satellites will now be redeployed. EUTELSAT 3D is already on its way to 7 degrees East, where it will be co-positioned with EUTELSAT 7A to increase capacity and in-orbit security for customers providing DTH, professional video, data and telecoms services in Europe, Turkey, the Middle East, Africa and Indian Ocean islands. The satellite is scheduled to go into service at 7 degrees East in mid-July, at which point the craft's new name will be EUTELSAT 7B. EUTELSAT 3A will be relocated to 8 degrees West until it is deorbited later this year.