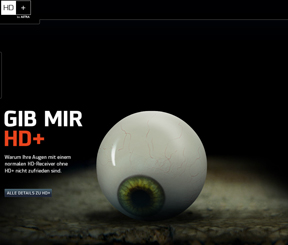 [SatNews] SES (NYSE Euronext Paris and Luxembourg Stock Exchange: SESG) has revealed that its German HD platform HD+ now...
...exceeds one million paying households. For the full year of 2012, HD+ more than doubled the number of paying customers, from 404,123 to 944,993. HD+ expects a growth rate of 25 percent for paying customers in 2013. As of December 31, 2012, HD+ reached a total of 2.87 million households that either pay for the technical service or are in the free HD+ test phase. This represents an increase of 570,000 (or 25 percent) households compared to the previous year. The number of households in the free trial period increased to 1.92 million at the end of 2012.
Launched on November 1, 2009, HD+ enables households in Germany to receive the following 15 free TV channels in HD quality exclusively via the ASTRA satellite system: RTL HD, Sat.1 HD, ProSieben HD, VOX HD, kabel eins HD, RTL II HD, SUPER RTL HD, N24 HD, TELE 5 HD, SPORT1 HD, DMAX HD, Nickelodeon HD, sixx HD, COMEDY CENTRAL HD and DELUXE MUSIC HD. Customers with an HD+ STB can receive another 22 HD channels, at no extra charge.