[SatNews] MITEQ will be presenting several new products at their booth, #5017, during the upcoming Satellite 2014 exhibition in Washington D.C.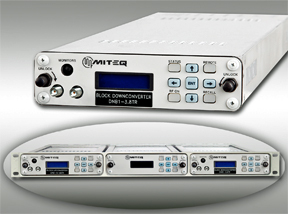 1/3 Rack Converters—MITEQ's unique 1/3 Rack, 1U high converters are now available in L-, S-, C-, X-, Ku- and Ka-bands. These up and downconverters offer excellent phase noise and low intermodulation, Gain: 30 dB upconverters / 35 dB downconverters and 30 dB of gain control. Available with a host of options these patented space saving units are easily configured to create redundancy systems in 1RU height. Combined with MITEQ's additional 1/3 Rack products: Test Translators, Slope Equalizers, Redundant Switchover Units, Amplifiers, Block Converters, Fiber Optic Transmitters and Receivers, and now you can configure your entire up- and downlink chain, including the Fiber Optic RF antenna interface in 1/3 the Rack space.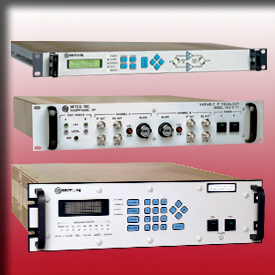 Equalizer Products
—MITEQ's variable group delay and amplitude slope equalizers are designed to compensate for the nonlinear delay distortion and amplitude slope introduced by the various components and sub-systems of the satellite earth station. These SATCOM Equalizer Products are offered in single, dual, 1:1 and 1:N system configurations.
NEW Space Saving, 1/3 rack 1RU high Amplitude/Slope Equalizer—The TRE Series unique, full function space saving Amplitude/Slope Equalizer Products offer the same performance and options as our full rack units but require 1/3 the rack space of a traditional unit. Redundancy can now be achieved in 300 percent less space and that is a true savings. Patented space savings 1/3 rack units are only available from MITEQ.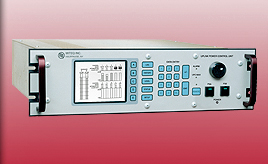 Uplink Power Control Units—The Uplink Power Control System (UPC) is a selfcontained, rack-mountable unit, designed for geostationary satellite communication systems. It adjusts the strength of uplink signals at IF frequencies to compensate for varying weather conditions. The UPC can be setup completely from the front panel or over a remote bus via a host computer. All monitor and control functions are accessible at the front panel as well as over the remote bus. A Beacon Receiver must provide the UPC with a DC voltage proportional to the downlink signal strength. The Uplink Power Control Unit is equipped with fully redundant power supplies.
Further information regarding MITEQ and the firm's products is available at http://www.miteq.com/