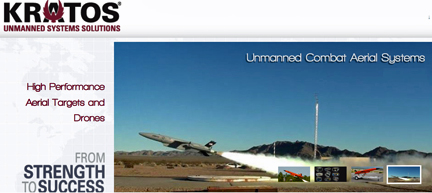 [SatNews] Kratos Defense & Security Solutions, Inc. (Nasdaq:KTOS has successfully completed customer acceptance flight testing for one of the Company's newest unmanned aerial drone systems platforms.

The unmanned aerial drone system has performance, flight, and other characteristics representative of certain of this customer's potential adversaries' most advanced threat platforms and systems. Kratos' unmanned aerial drone systems are produced in secure Kratos manufacturing facilities. Kratos designs and manufactures substantially all major elements of the Company's unmanned aerial systems, including composite aircraft, electronics, avionics, command and flight control systems. Kratos is also an industry leader in unmanned ground and robotic systems. Due to customer specific and other considerations, no additional information will be provided related to the successful customer acceptance flight testing.
Wayne Armstrong, President of Kratos' Advanced Drones & Targets Systems (KADTS) Division, said, "Our entire organization is proud to have successfully achieved all of our flight criteria and milestones for this very important customer. KADTS is a world leader in high performance unmanned aerial systems, drones, targets, and threat representative vehicles. This is one of the highest performance unmanned aerial target drone systems in the world."
Eric DeMarco, President & Chief Executive Officer of Kratos, said, "Successful completion of flight testing and platform acceptance by this critically important customer was a primary objective of our corporation, and the Kratos team has once again done an outstanding job. This particular unmanned aerial system is our Company's highest performance aircraft, and we are currently working with several existing and potential new customers on large expected future orders."
The KRATOS Defense & Security Solutions infosite is located at http://www.kratosuss.com/about-uss