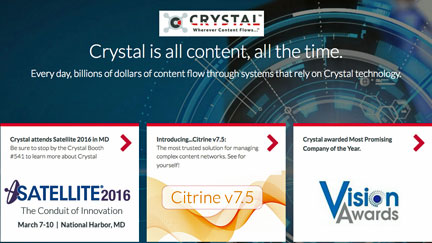 The importance and potential of video metadata is going to be the focus of an industry discussion at IBC entitled Making Much More of Metadata.

The session, new in 2016, and chaired by EBU's Jean-Pierre Evain, will examine some novel ways in which metadata is being exploited. How, for example, can smart lens metadata assist other production equipment or help in post-production? Can time-stamped metadata provide the ultimate shopping experience - buy anything you see on the screen? Can metadata provide enriched content to enhance the viewing experience or will slow standardisation processes hamper its exploitation?"

"There has been a dramatic rise in viewing of over-the-top (OTT) content on mobile and tablet devices. This means it is easier than ever to target content to an individual viewer," commented Roger Franklin, CEO, Crystal. "Getting metadata right is crucial to take advantage of this opportunity, delivering relevant content that they would not have received any other way."

Mr. Franklin contributes to this Metadata session through a supporting paper titled "Using Metadata to Deliver Relevant and Valuable Content." He draws from his experience of inserting, logging, and validating in-band video metadata to demonstrate how to leverage new standards to enable live-to-VOD and linear-to-OTT utilizing existing business workflows.

Crystal Insight product suite, the core of Crystal's Metadata solutions, also enables broadcasters to enhance and personalise viewing experiences for the consumers. By ensuring the precise description and correlation of program content based on embedded metadata, content providers are able to take advantage of a specific individual's preferences to serve up targeted content, advertising, and other information.

The session, part of the Advances In Technology stream, will occur on Thursday, September 8, 2016, at from 1:30 to 3:00 p.m. in the Emerald room.
Crystal will also be demonstrating their Insight solutions, Connect and the Video Metadata Analyzer (VMA), on its Stand 1.A78 at IBC.